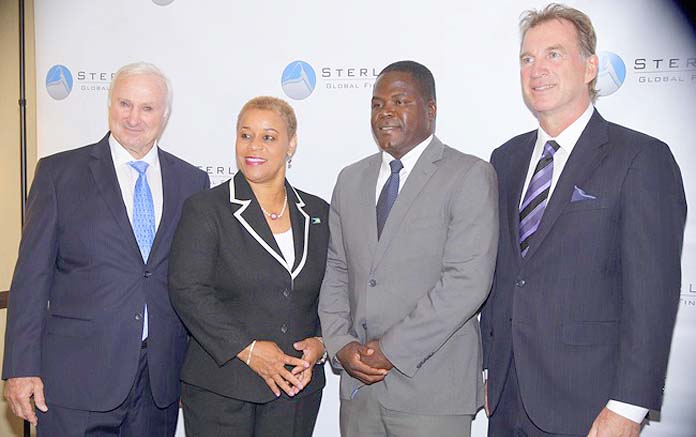 NASSAU, The Bahamas – At the launch of Sterling Bank & Trust on May 26, 2016 at Luciano's of Chicago, Minister of Financial Services, the Hon. Hope Strachan said, "this investment by Sterling is a clear and unequivocal demonstration of the faith, confidence, and commitment in The Bahamas, as a premiere financial service center. In the overall scheme of things, Sterling had the choice of hundreds of financial services centers around the globe. They chose The Bahamas."
Minister Strachan conveyed congratulations to the bank on behalf of the Government of The Bahamas on the addition of a new bank license to their portfolio of services, saying "this new banking license will no doubt add to the existing services already offered by the Nassau-based Sterling Financial Group, and to the value and the standing of Sterling Global Financial.
She said the Government of The Bahamas is committed to creating the most attractive environment possible through legislation, policy, and the automation of systems, to encourage financial services institutions to locate and expand operations in The Bahamas.
"As a jurisdiction, we have built a solid reputation in our current lines of business, such as trust, funds, insurance, and banking. However, to maintain and extend our leadership position into other facets in international wealth management, we encourage and support our financial services partners to be creative and innovative in meeting the needs of their clients and creating competitive advantage. Sterling Financial is a prime example of this," said Minster Strachan.
Minister Strachan congratulated Sterling Bank for the launch of its new website featuring a client facing portal. She added that the way financial services business is conducted around the world is in a state of constant change, in a technologically advanced world.
"In order to meet the challenges that change brings, financial institutions must change the way they conduct business through innovation, technology, diversity of products, and services, and an investment in human capital resources," said Minister Strachan.
"Sterling Global Financial is one of such example of this having created a mechanism through which they are able to bring their clients to them by the touch of their fingertips, enabling their firm to share news and information with their clients which allows them to comfortably manage their financial affairs. We have no doubt that the New Providence-based bank, as well as the existing entity, will continue to innovate, and to add to its technological services, to the benefit of their clients."
Minister Strachan said that Sterling Global Financial has been serving its clients for over 50 years and The Bahamas is proud to be associated with the New Providence-based fund, as well as the new Bank, which is coming on stream. She added that the success of the financial services industry is inextricably intertwined with Sterling's success and wished Sterling Global every success for the future.
Sterling Bank's President and Chief Operating Officer, Steve Tiller, explained that the Bank has been operating in The Bahamas for the last 10 years with David Kosoy's involvement, and the Bank sees an evolvement of a broad banking service entity with a number of long standing fund management businesses here and the world-class New Providence Income Fund, which has been domiciled and in operation for the last four years.
"With the Bank & Trust business, we see a demand for banks that are technologically driven, technologically sound, as well as offering security and world class services. That's the growth avenue really of the bank and trust today. Then of course, we are real estate people at heart, as we mentioned we have about $500 million in projects on the go here that we finance or are involved in developing, like the condo projects at Thirty Six, we have Ocean Terraces, and we have a project in Eleuthera, we have a project in Abaco, and we are currently in negotiations with world class brands to come to The Bahamas," said Mr. Tiller.
"We see its time to build across a number of different industry groups.
We have banking and trust and one of the oldest companies in the Caymans, then we have our fund management business, and all our development and real estate products. So we see a broad offering in a number of areas and it's time to grow."