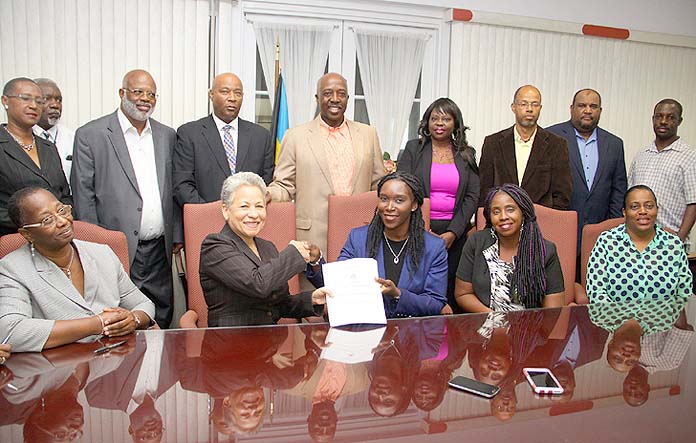 NASSAU, The Bahamas – A new industrial agreement has been signed between the Government of the Bahamas and the Bahamas Air Traffic Control Union (BATCU). The agreement was signed on Friday, May 27 at the Ministry of the Public Service on Meeting Street. Calling the new agreement 'historic,' Minister of Transport and Aviation, the Hon. Glenys Hanna-Martin said the agreement comes at a critical time for the aviation industry.
"Today marks a new era in the air traffic control sector," said Minister Hanna-Martin. "Air traffic control is a key area and a pillar in our economy." She noted that the significance of air traffic control's critical function, giving as an example the quick and successful coordination between air traffic controllers and emergency responders at the time of Jet Blue's nose landing gear failure recently at LPIA.
Minister of Labor and National Insurance, Hon. D. Shane Gibson who also attended the signing ceremony said that he was satisfied that both sides – the Government and the Union — were able to execute an agreement that was agreeable to both sides.
President of BATCU, Mrs. Lashan Gray said the signing of the agreement marked the end of a 'tedious' and 'vigorous' process, but also the beginning of a 'timely' agreement more closely aligned to industry standards.
Approximately $11 million has already been invested in the industry to improve infrastructure and more improvements are coming on stream to take the sector to international standards.
The new industrial agreement will provide for a lump sum payment, equivalent to one increment; salary increase, equivalent to two increments; a rating allowance for all controllers; increase in salary for new recruits – from $14,650 – $18,000 effective March, 2016; medical insurance in the ratio 80/20, and a training allowance. The agreement will end May 31, 2017 and coincide with the sector's transition to placement under an authority.