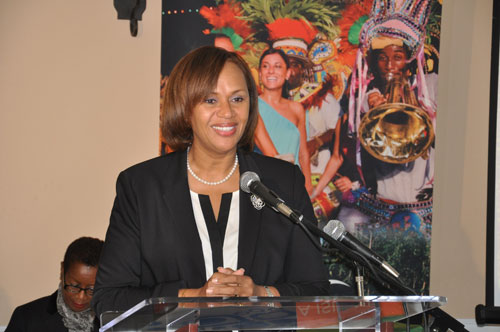 FREEPORT, Grand Bahama – The Director General of Tourism, Mrs. Joy Jibrilu announced the 2nd "16 Islands 16 Weddings" campaign, coordinated by the Ministry of Tourism at a press conference on Monday.
The press conference was held so that Prime Minister of the Commonwealth of The Bahamas, the Rt. Hon. Perry Christie could announce new tourism initiatives for the island.
Also present were: Tourism Minister, The Hon. Obie Wilchcombe and Minister for Grand Bahama, The Hon. Dr. Michael Darville.
Mrs. Jibrilu said, "Tourism is The Bahamas' economic engine. The 700 islands and 2,300 cays complement the 16-island destinations featured in the Ministry of Tourism's marketing thrust."
Tourism in The Bahamas has enabled the advancement of the Bahamian population, provided foreign reserves, supported infrastructural developments and advanced our competitive advantage over competing destinations Mrs. Jibrilu said.
She went on to say, "Our strategy must however, also reflect the plethora of products and diverse experiences throughout the 16-islands. To this end I am delighted to say that the Ministry is launching for the 2nd year its successful '16 Islands, 16 Weddings' campaign."
Mrs. Jibrilu informed all present that on January 16, 2015 at 1600 hours (4:00pm), 16 couples from the United States will get married on 16 islands in The Bahamas, including Grand Bahama.
This campaign was launched earlier this year in the US when couples were invited to enter the competition to have an all-expense paid wedding in The Bahamas. "We were told a great outcome would be to have about 400 people enter the competition. We are delighted to say that over 3000 couples entered the competition which we had to narrow to 16 winning couples."
She said, next year the campaign will be launched in Canada.
"The success of this campaign is evidenced by the fact that all our Canadian potential partners – airlines, bridal stores, jewelers etc. have approached us with a view to participating."
Mrs. Jibrilu ended her speech with, "as the tourism economy begins to rebound, we see significant returns in the partnerships which the Government of The Bahamas has assumed in meeting its obligation to the citizens of the Commonwealth of The Bahamas."
PSA 18 from King Of Hearts Media on Vimeo.