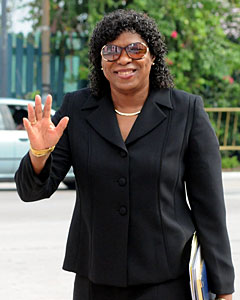 Bahamas Press is reporting the forth murder for the weekend and the 217th since 2009.
We can confirm a man was shot in the Montel Heights area tonight following a shooting incident. The victim succumbed to his injuries.
Meanwhile what is believe to have been a gang war in the Grove area near the home of former Minister of National Security Cynthia Mother Pratt, saw bullets fly through her window and penetrated the walls inside her home.
We can tell us while the former Minister was not harm, she expressed her concern to the level of crime and violence in the area. Pratt told reporters, "I do not feel safe in my home," as she has requested a meeting with the Commissioner of Police.