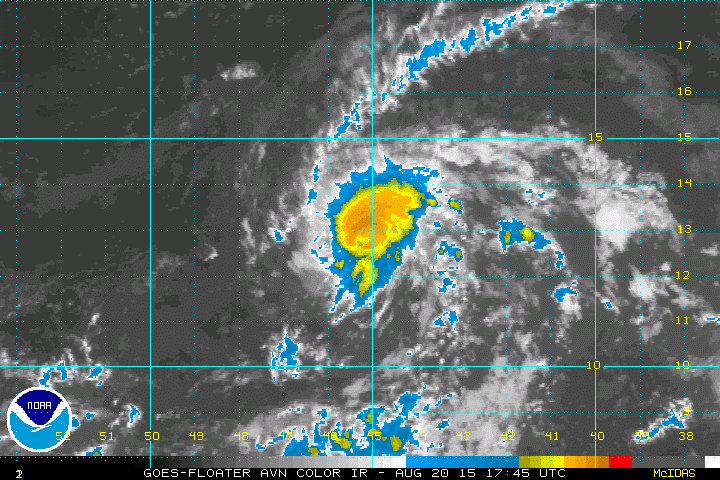 NASSAU, The Bahamas – The National Emergency Management Agency (NEMA) has released the official list of Hurricane Shelters for The Bahamas 2016 storm season.
NEMA has implemented an emergency warning system to better prepare and inform the public about a disaster about to impact the country.
NEMA follows Standard Operating Procedures (SOPs), which provide instructions for activation and the operations of the NEOC, amongst other things. Level I deals with monitoring the system and its projected path, which is 60 hours out. Operations Officer will monitor the progress and keep the Director of NEMA informed. Also, a green flag would be hoisted outside NEMA's office to indicate this level.
Level II or partial activation, which NEMA implemented Thursday, means that the situation has escalated into a real threat to the islands or areas in the projected path 48 hours out. The situation escalates into a real threat such as storm warning, flash flood warning, etc. A yellow flag is hoisted to indicate this. During this phase, a watch is issued which means that the storm is 48 hours or two days out. Residents are advised to take the necessary precautions — to protect themselves and their properties.
Level III will see an orange flag hoisted, which means emergency conditions exist for example, flash flooding or tornadoes. Also, the NEOC will be activated and utilize the necessary personnel.
And at Level IV, a red flag would be hoisted which means full activation. The Prime Minister of the Commonwealth of The Bahamas will be advised to address the nation on the potential destruction the system would cause.
By this time, residents should be in a wait and see mode and should have already made all preparations for landfall. Such preparations include securing personal documents and seeking designated approved shelters in the event an evacuation order was previously issued. This means the system is 36 hours out.
The ESF groups are made up of personnel from essential services such as health, police force, defence force, water, electricity, communications, shelter management, and other related areas.
Flags should be prominently flown at various points around the country, namely at Nassau Harbour, the Bahamas Air Sea Rescue Association (BASRA), Family Islands Administrators' offices on the islands, the Royal Bahamas Defence Force Base at Coral Harbour and other strategic locations easily noticeable by the public. The flags would be issued to the respective places for easy access and hoisted during emergency situations.
The flags and colours are in keeping with international standards of emergency procedures and protocols.
BAHAMAS HURRICANE SHELTER DIRECTORY:
ABACO
North Abaco District
Amy Roberts Primary School – Green Turtle Cay
Faith Walk Church of God – Cooper's Town
(Community Centre)
Fox Town Primary – Fox Town
Grand Cay AllAge School – Grand Cay
Shiloh Baptist Church – Grand Cay
South Abaco District
Soul Seeking Ministry – Moore's Island
Moore's Island AllAge School – Moore's Island
Sandy Point Community Centre – Earnest Dean Highway
Crossing Rocks Primary – Crossing Rocks
Assemblies of God Church – Cherokee Sound
Central Abaco District
Central Abaco Primary School – Dundas Town
Abaco Central High School – Murphy Town
Man-O-War Public School – Man-O-War Cay
Guana Cay AllAge School – Guana Cay
Hope Town Primary School – Hope Town
ACKLINS
The Chester's Hurricane Shelter
Nurse's Residence in N. Acklins (for residents of Lovely & Chester's Bay)
Snug Corner Primary School (residents of Central Acklins)
Spring Point Community Centre (Central Acklins Residents)
The Ebenezer Baptist Church (residents of Salina Point)
ANDROS
North Andros District
Nicholls Town Primary School – Nicholls Town
Church of Christ – Nicholls Town
Church of God of Prophecy – Conch Sound
Pleasant View Assemblies of God – South Mastic Point
First Baptist Church – San Andros
B. A. Newton Primary – Red Bays
Administration Building – Nicholls Town 1
(Command Centre)
Central Andros District
Church of God – Cargill Creek
Pentecostal Church – Bowen Sound
Catholic Church – Fresh Creek
Voice of Deliverance – Calabash Bay
Mt.Sinai Baptist Church – Calabash Bay
Mt.Ethel Baptist Church – Love Hill
New Highway Pentecostal Ch. – Blanket Sound
South Andros District
Deep Creek Primary – Deep Creek
High Rock Primary School – The Bluff
Long Bay Cays Preschool – Long Bay Cay
St. Paul's Baptist Church – Black Point
Mangrove Cay
Mangrove Cay High School – Swains
Burnt Rock Primary – Burnt Rock
BERRY ISLAND
Church of God of Prophecy – Great Harbour Cay
Bimini
Bimini Big Game Lodge – Accommodates 50 persons
Gateway Academy Gym – Accommodates 100 persons
Cat Cay
Residents in Cat Cay would be evacuated to North Bimini in the event of a hurricane.
CROOKED ISLAND
Ezekiel Thompson Hall – Cabbage Hill
Church of God of Prophecy – Cripple Hill
Deleveaux's Residence – Major's Cay
LONG CAY
Collie's Duplex – Albert Town
Command Centre & Additional Shelter – Cabbage Hill
CAT ISLAND
St. Andrews Anglican Church
Holy Redeemer Catholic Church
Zion Baptist Church
St. Marks Anglican Church
Seventh-Day Adventist Church
Lovely Zion Baptist Church
ELEUTHERA
North Eleuthera District
Purplemae Restaurant
Wesley Methodist Church
Trinity City of Praise Centre
Mission Church of God
Peoples Haitian Baptist Church
John Wesley Methodist Church
Harbour Island
Lighthouse Church of God
Wesley Methodist Church
South Eleuthera District
Rock Sound Primary School
Green Castle Primary School
Wemyss Bight Primary School
DeepCreek Middle School
Bannerman Town & John Miller's Community Library
Current, Current Island & Spanish Wells
The Current Community Centre
Zion Methodist Church
Central Eleuthera
The Resource Centre
The Salvation Army
Church of the Nazarene
Governor's Harbour Primary School
St. Mark's Native Baptist Church
Cambridge Villas
EXUMA
St. Mary Magdalene Anglican Church – Williams Town
St. Peter's Union Baptist Church – Forbes Hill
St. Matthew's Baptist Church – Ferry
Mt. Carmel Baptist Church – Hartswell/Rolle Town
St. Andrew's Community Centre – George Town
St. Theresa's Catholic Centre – George Town
College of the Bahamas Resource Centre – George Town
Mt. Hermon Baptist Church – Mt. Thompson
Palestine Baptist Church – Forest
Ebenzer Baptist Church – Farmer's Hill
St. Margaret's Anglican Church – Harts
Ebenezer Baptist Church – Rolleville
Mt. Sinai Union Baptist Church – Stuart Manor
St. Margaret Baptist Church – Stuart Manor
Ebenezer Baptist Church – Barraterre
INAGUA
Zion Baptist Church
St. Michael's Methodist Church
St. Phillips Community Centre
LONG ISLAND
Brethren Church – Seymour's
Salem Baptist Church – Millers
St. Joseph Church – Salt Pond
St. John's Church – Buckley
St. Francis Danville Center – Hamilton's
Community Centre – Clarence Town
Holy Family Anglican Church – Mortimer's
MAYAGUANA
Abraham's Bay High School
Pirates Well Primary School
RAGGED ISLAND
Administration Building
SAN SALVADOR
Idell Jones Community Hall – Cockburn Town
Fellowship in Christ Kingdom Ministries – Cockburn Town
Johnathan Knowles Gerace Research Center – United Estates
Rennard & Janet Storr
RUM CAY
St. Christopher Anglican Church – Port Nelson
GRAND BAHAMA
Freeport
The Cancer Association – East Atlantic Drive & Norma Headley Way
Foster B. Pestina Center – Pioneers Way & Rhodes Lane
The Pro Cathedral of Christ the King –
Church of Christ Fellowship Hall – East Beach Drive & Sunset Highway
St. Georges High School Gymnasium – Sunset Highway
First Baptist Church Hall – Columbus Drive & Nansen Avenue
Central Church of God – Pioneers Way East & Coral Road
Sir Jack Hayward High School Gymnasium – Wildcat Avenu & Pioneers Way East
Maurice Moore Primary School – Sandcome & Torcross Roads
West Grand Bahama
Eight Mile Rock Gymnasium – Eight Mile Rock
NEW PROVIDENCE
New Dimensions Ministries – Joe Farrington Road
Epiphany Anglican Church – Prince Charles Drive
Epworth Hall/Ebenezer Methodist Church – Shirley Street
Holy Cross Anglican Church – Highbury Park off Soldier Road
Kemp Road Ministries – Kemp Road
Pilgrim Baptist Church – St. James Road
Salvation Army – Mackey Street
St. Mary's Hall/St. Augustine College – Bernard Road
Agape Full Gospel Baptist Church – Kennedy Subdivision
Golden Gates World Outreach – Carmichael Road
New Bethlehem Baptist Church – Independence Drive
Southwest Cathedral Church – Carmichael Road
Church of God of Prophecy – Augusta & Patton Streets
Ebenezer Mission Baptist Church – St. Charles Vincent Street
Salvation Army – Meadow Street
Church of God of Prophecy – East Street
St. Barnabas Anglican Parish Church – Wulff& Blue Hill Roads
Mt.Moriah Baptist Church – Farrington Road
Church of God of Prophecy – Gambier Village
New Providence Community Centre – Blake Road
Calvary Haitian Baptist Church – West Avenue
Hillview Seventh Day Adventist Church – Tonique Williams Darling Highway
C.R.Walker Sr. High School Auditorium – Blue Hill Road
All Saints on Calvary Hill Anglican Church – Joan's Heights
St. John's Native Baptist Church – Meeting Street