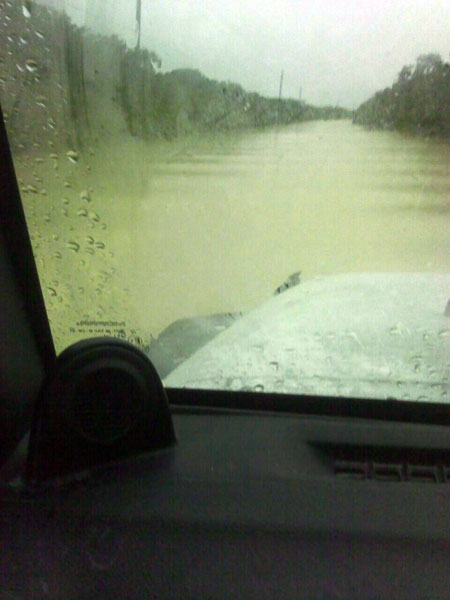 NASSAU, The Bahamas – The National Emergency Management Agency, NEMA, has confirmed that the islands in the projected path of Tropical Storm Cristobal fared well during the passage of that fourth named storm of the 2014 Atlantic Hurricane Season.
On Monday, August 25, First Assistant Secretary at NEMA Chrystal Glinton said that Family Island Administrators reported very little impact, with the exception of flooding of the road in Mayaguana between Pirate's Well and Abraham's Bay.
By Sunday afternoon, the Bahamas Department of Meteorology issued tropical storm warnings for the Central and Southeast Bahamas, which include Acklins, Crooked Island, Long Cay, Ragged Island, Mayaguana, Inagua, Cat Island, the Exumas, Long Island, Rum Cay and San Salvador.
Over a 48-hour period, Tropical Storm Cristobal was expected to produce rainfall totals of 4 to 8 inches over the Southeast and Central Bahamas, and the Turks and Caicos Islands.
"NEMA monitored the system because there was going to be severe water fall resulting in flooding," Ms. Glinton said, "but those islands were not impacted."
She explained that those islands were in a state of readiness and the Emergency Operation Centres on each island were prepared to partially activate or fully activate, if there was a need to do so.
'The designated hurricane shelters were ready to be opened, and a list of tourists was compiled (in the event their respective countries were concerned about their welfare and safety) during the storm," Ms. Glinton said.
Once NEMA is advised by the Department of Meteorology of the severity of the impending storm, the various levels of activation are implemented.
"There is 'Partial Activation' and then 'Full Activation' and NEMA would monitor the system," Ms. Glinton said.
Once a system has passed through, the 'All Clear' is issued by the Department of Meteorology and then NEMA conducts a rapid assessment of the impacted area or areas. An Initial Damage Assessment Team is dispatched from New Providence to the impacted areas where the level of destruction is recorded in a damage assessment report, and the recovery and repair steps are taken to restore life to normalcy.
Meanwhile, residents are being reminded that the Hurricane Season is at its peak time, and all the necessary preparations should be in place in the event the country is faced with a storm.
The Atlantic Hurricane Season runs June 1 to November 30. Weather experts predict 8 to 13 named storms (winds of 39 mph or higher), of which 3 to 6 could become hurricanes (winds of 74 mph or higher), including 1 to 2 major hurricanes (Category 3, 4 or 5; winds of 111 mph or higher).
The 2014 Atlantic Hurricane Season named storms are: Arthur, Bertha, Cristobal, Dolly, Edouard, Fay, Gonzalo, Hanna, Isaias, Josephine, Kyle, Laura, Marco, Nana, Omar, Paulette, Rene, Sally, Teddy, Vicky, and Wilfred.