Christie's VICEROY DAVIS DELIVERS AGAIN!!! Contract Signed to Reconstruct Roads in Andros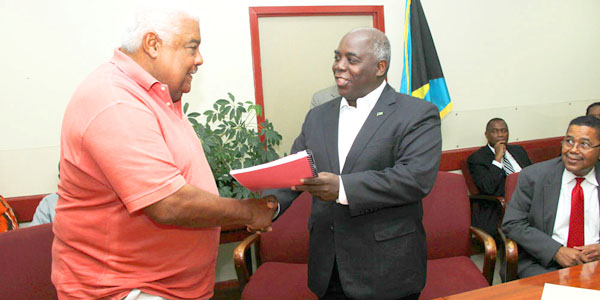 By Kathryn Campbell
Bahamas Information Services
NASSAU, The Bahamas – The Bahamas Government has signed a $7 million contract with Bethell's Trucking and Heavy Equipment to reconstruct 9.7 miles of roads in Andros.
The signing ceremony took place February 5 during a Press Conference at the Ministry of Works and Urban Development. In attendance was the Hon. Dr. Perry Gomez, Minister of Health and Member of Parliament for Andros and the Berry Islands, and the Hon. Arnold Forbes, Minister of State in the Ministry of Works and Urban Development and former Chairman of The Bahamas Agricultural and Industrial Corporation. Colin Higgs, Permanent Secretary, George Hutchinson, Deputy Director, other senior Government officials and members of the technical team including Dion Munroe, project manager, were also present.
The Hon. Philip Davis, Deputy Prime Minister and Minister of Works and Urban Development said with the opening of Bahamas Agriculture and Marine Science Institute (BAMSI) the need became "critical" for the main road between BAMSI and the San Andros Airport to be reconstructed and paved with hot-mix asphalt.
The scope of works includes, among others, clearing verges, scarifying existing pavement and installing line marking and signage from the San Andros Airport to the major crossing south of the BAMSI site.
"For North and Central Andros, this marks only the beginning of phased roadworks," said Minister Davis. "As early as 2013, technical officers in my Ministry re-scoped 79.3 miles of settlement and main roads in North and Central Andros for repair and reconstruction, including the settlement roads and upgrade of the water distribution mains in Mastic Point and Nicholls Town."
He said the Government will proceed with repairs and reconstruction of the main and settlement roads in North and Central Andros as funding permits.
Minister Gomez said the residents of Central and North Andros have "suffered" for a long time due to the "severely" bad roads. He described the signing as a "major" step forward for North Andros and the country.
Minister Forbes said the contract will contribute to the development of commerce for the people of North and Central Andros. "I believe all Androsians will benefit from the signing of the contract and I'm sure it will bring employment opportunities for some of the locals as well," he added.
Approximately 50 persons will be employed on the project, which is expected to take 6 months to complete.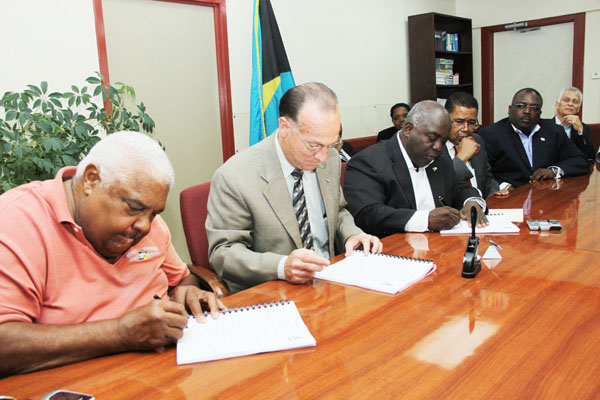 Stanley Bethell, left, proprietor of Bethell's Trucking and Heavy Equipment is pictured signing a contract to reconstruct roads in Andros. Also shown beginning 2nd from left is Colin Higgs, permanent secretary in the Ministry of Works and Urban Development; the Hon. Philip Davis, Deputy Prime Minister and Minister of Works and Urban Development; the Hon. Perry Gomez, Minister of Health; the Hon. Arnold Forbes, Minister of State in the Ministry of Works and Urban Development; and George Hutcheson, Deputy Director. (BIS Photo/Raymond A. Bethel, Sr.)