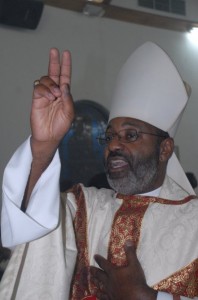 Nassau, Bahamas – Sources deep in Addington House on the top of Sands Road tell us the Church, just like in the days of Jesus, is finding it hard to operate in these days of doom and gloom.
BP has learnt the Anglican Diocese in the Bahamas may cancel its annual Synod this year, for the first time in over a decade. Hash fiscal realities and low financial support we are told is the heart of the pending decision.
A Prince of the Church told BP, "We are facing extreme challenges in these tough economic times. Scores of members have lost jobs or have been placed on retirement. In addition to that, our family island parishes lay on the altar like a fatted calf waiting to be sacrificed; times are tough in those islands.
"The misery index across the country is staggeringly high. The demands on the resources are being pulled in every direction. Our schools are paying a heavy price as wells, as many students have moved back into the public systems. Meanwhile, our operating expenses remain the same."
One questions the decision however and asks,  should the church cancel the annual Synod, when the country needs to hear a word from the Lord?
A member of the church said, "If ever there was a time for the Voice of the Church to be heard it is now. Look at the crime, the slaughter of women, the confusion in the world and the plagues infesting our land like the dengue. All this tells us more and more we need to run to the HOUSE OF GOD from whence come our help. We need to hear from GOD! We also need to know the state and condition of his Church. These must all should be reviewed in these tough times."
Imagine running from a criminal and the one place you know you could STOP, DROP and ROLL in is the Church.We already see the churches locked tight at night. Without Synod, is it like saying the Church of England close, The Work of God gone on Vacation and the enemy has won!
The Church should have Synod, even if it is held for ONE DAY!