Polling has not been suspended as FAKE NEWS social media scammers suggest!!!!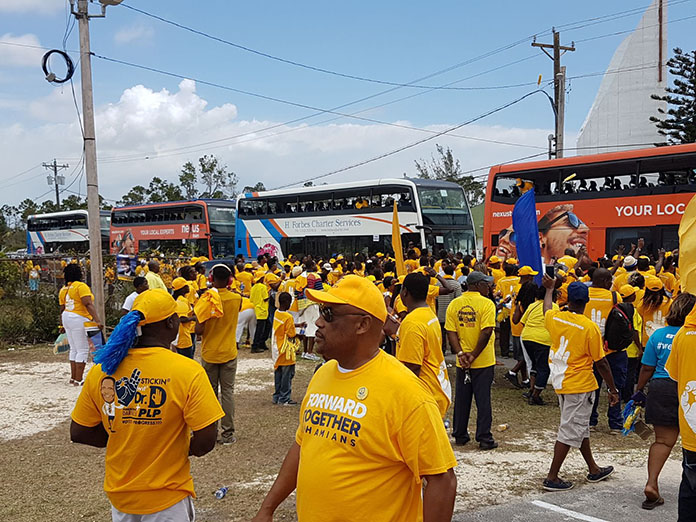 Nassau, Bahamas – Voting is going very well today with high voter turnouts all across the country!
Early this morning after Duane Sands saw the GOLD RUSH TSUNAMI standing outside the polling centers and he began screaming foul. By this time Sands "side sugar", who is a big-time reporter was kicking a fit and screaming loudly blowing up social media with her brand of FAKE NEWS an FNM campaign strategy out of the Donald Trump playbook from Lincoln Strategies [the Fake FNM campaign managers.]
Both issues in Seabreeze and Elizabeth were quickly resolved and a statement by the Parliamentary Commissioner was issued. Here is what he had to say:
"The Parliamentary Commissioner, Mr. Charles Albury, wishes to advise voters in the Elizabeth Constituency that due to some technical problems related to a few ballots, voting had to be suspended to allow for these issues to be resolved.
"In the Seabreeze Constituency, voting was also suspended to resolve some issues.
"In both Constituencies, voting has resumed.
"However, in order to allow all of the registered voters to exercise their rights to vote the Parliamentary Commissioner, in accordance with Sec. 52 of the Parliamentary Elections Act, has extended the voting hours in the Elizabeth Constituency until 6.15 p.m., with the exception of Polling Division 11 which has been extended until 8.15 p.m.
"In the Seabreeze Constituency voting will be allowed in Polling Division 4 for an additional two hours until 8:00 p.m.
"The Parliamentary Commissioner wishes to stress that no irregularities were discovered in the electoral process in both of the Constituencies mentioned."
Meanwhile from our internal data BP can report that Alfred Sears has already been elected according to reports from the ground. Sources deep in the count tell us the MP who replaces wutless Andre Rollins had his seat delivered to him on a Golden Platter at 1PM today…
BP is awaiting more results as our reporting on the day has begun!
We report yinner decide!