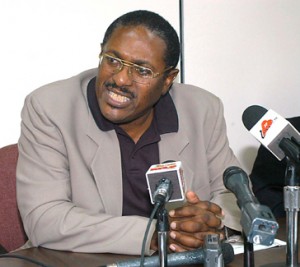 PLP PRESS STATEMENT: Family Islands without Public Radio Service since September 7th 2010
As stated in an earlier statement, the public will recall that ZNS AM1540 went off air on September 7th of this year following the theft of copper wire from its South Beach tower. The copper was said to be valued at some $1,314 dollars.
ZNS AM1540 is indeed the communication link for our southern Bahama islands to New Providence and the Central Government Services. 1540 provides those islands with critical instructions, life saving directions, and vital notifications.
As we go about our duties preparing this statement for release, we in the PLP is very concern about our brothers and sisters living in the Southern Bahamas. Those islands are directly in the predicted path of uncertainty of Tropical Storm Tomas, which is forecast to possibly strengthen back to the level of a hurricane by Wednesday.
We demand that the Government get of their hands and do whatever is necessary to get ZNSAM1540 up and running within the next 24 hours. This Government must demonstrate a better interest in the life of ordinary Bahamians.
It is stomach-turning to live in a country the size of ours where you can literally hear your brothers cry from the north to south, yet the people who carelessly uses the Trust to describe their agenda continues to turn a deaf ear and a blind eye to the cries and needs of our people. However they can find plenty of time to take luxury helicopter rides with billionaires to survey our precious sea parks, so as to grant demolition orders. This heartless Hubert Ingraham led Government can rush like desperate prostitutes to sign an agreement to construct a 7 mile highway here in Nassau, at
$10,000,000.00 per mile. They found millions to give to some of the riches Bahamians to construct a private container port. But for our lest fortunate brothers and sisters in the south, this heartless government say wait for $1300.00
Information is paramount when it comes to hurricane preparedness Minister Tommy Turnquest, a storm is threatening our brothers and sisters in the south. Find a way to fix the problem, and fix it now. The Bahamian public cannot depend on Hubert Ingraham and the FNM to solve any issues if it does not involve people of special interest Shame! Shame!