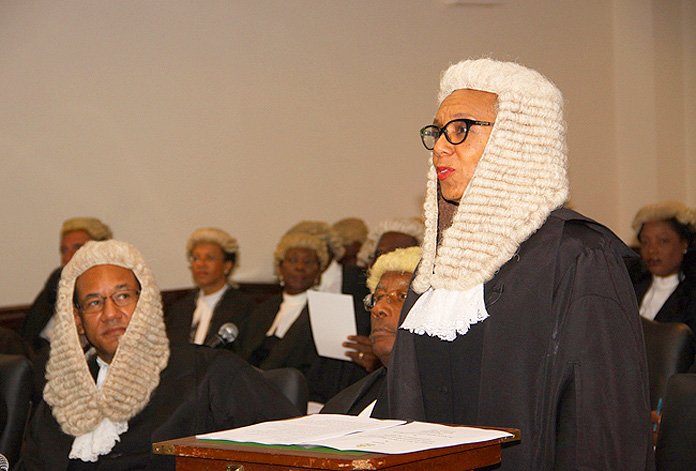 STATEMENT ISSUED BY
THE OFFICE OF THE ATTORNEY GENERAL
1ST JUNE 2016
On Tuesday, June 7th, 2016 Bahamians will go to the polls, in the final step of a Constitutional Referendum, to decide whether to amend the nation's Constitution.
There has been a suggestion that the Constitutional Referendum is not necessary, and that ordinary legislation is sufficient to address current inequities in our country between men and women with respect to citizenship and the right not to be discriminated against. That suggestion is incorrect.
It is important to understand the facts and the law.
The Constitution is the supreme law of the land. It takes precedence over any other law. The provisions which treat men and women differently with respect to citizenship rights and freedom from discrimination are entrenched provisions in our Constitution. They can only be changed by a Constitutional Referendum.
Put another way, if we want our sons and daughters to be guaranteed equal rights under the law with respect to citizenship and the right not to be discriminated against, those rights must be written into the Constitution and entrenched at the highest levels. Ordinary legislation can be passed by Parliament, and it can also be changed, as it often is, by a simple majority in Parliament. Ordinary legislation cannot offer the same guarantees as entrenched constitutional provisions.
It is the nature of a Constitution to reflect and protect a nation's most fundamental values. That is why our Constitution says that the State may never treat citizens differently because of the color of their skin, or because of their religion, or their political views.
The proposed amendments to the Constitution were drafted written after an extraordinary period of consultation with legal and other experts. The lawyers who drafted them did so with great precision, and with the benefit of hindsight from the earlier process. They did so in a way that would ensure that men and women have equal rights under the law as citizens of The Bahamas. They also did so in a way that provides new Constitutional protections for our law that says marriage must be between a man and a woman.
Hundreds of information sessions have been held across The Bahamas so that Bahamians can see for themselves the text of the Constitution and the proposed changes.
We urge all citizens to be cautious about misinformation and legal distortions in these final days leading up to the vote. This is a time for sober and dispassionate reflection about what we want our Constitution to say about the ability of men and women as citizens to enjoy equal rights under the law. Importantly, we should remember that the decisions made on 7th June 2016 will affect us and generations yet unborn.