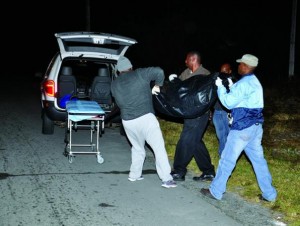 Another day of serious crime in the country
Nassau, Bahamas — There is more blood in the streets of The Bahamas today as BP reports there has been another murder on Grand Bahama.
Bahamas Press agents on that island reported that around 10:30 PM on Saturday, a male was shot at Churchill Apartment in South Bahamia.
We can report the victim in this latest incident was 35-year-old, Allan Fertil. He was a resident of #3 Gold Coin Lane North.
Eyewitnesses reported two dark males, both about 5-feet in height, one clad in a blue 'hoodie and the other in a black 'hoodie' came from the side of the apartment complex and shot the victim multiple times with a high-powered weapon.
Fertil our data confirms was known to the Police and was recently released from Prison.
Many of you do not remember nor will the FNM Press remind you how Fertil in September of 2009 was arraigned with three others for drug possession before Magistrate Gwendolyn Claude for Magistrate's Court No.3. Drugs were intercepted by police on Sept. 1 of that year, when officers conducted a search warrant on a residence in the South Bahamia. Fertil was at the time remanded to Fox Hill.

He becomes the country's 23rd murdered victim and the 451st person to be murdered since 2007.
Ann Percentie former MP for Pineridge robbed.

Former MP robbed on Grand Bahama
Also in news last night was the robbery of a former Member of Parliament. BP can report former PLP MP for Pineridge, Ann Percentie, was robbed last evening.  She joins MP for Pinewood and Jr Minister Byron Woodside in the criminal assaults now on MPs.
Woodside was robbed of his 42" flat screen TV. Bandits also removed Woodside's shotgun, surround-sound system, 5 gold watches, 3 gold chains, a sex toy and his entire desktop computer system.
Third Body Discovered on Eleuthera
Breaking news is coming into Bahamas Press, which reveals a shocking discovery of dead bodies on the island.
Agents on the ground in the Eleuthera District tell us police have their hands full as a third body has been discovered on that island. We at BP do not know how these persons have met their deaths but here is what we know.
Investigations reported yesterday, just hours before Prince Harry's arrival at LPIA, two bodies were found in Eleuthera. The victims, who were only identified as "dark males" were flown to the capital for further examinations.
Again early this morning, police on that island found the lifeless body of another male with the victim's left arm and both legs severed. Police are tight-lipped following these discoveries and this latest victim is at this hour being flown to the capital.
Now get this, earlier last week BP reported the landing of a Haitian sloop in the same area. No confirmation as to whether these persons may have been victims of this landing. The reports, however, now coming out of Eleuthera paints a clearer picture as to why Buckingham Palace canceled Prince Harry's visit to the island. ONLY BP IS REPORTING AND THE REST IS HUSH HUSH! We reporting and yinner just keep reading!