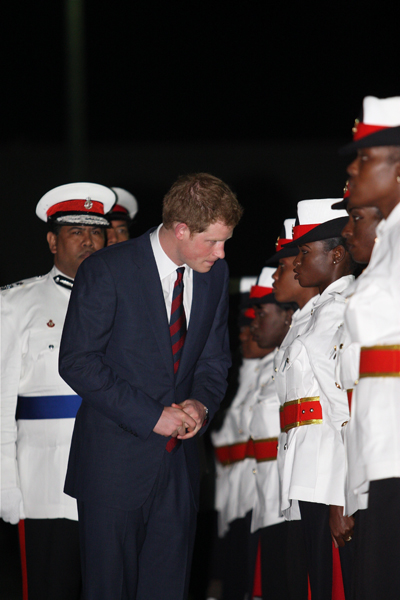 Spanish Wells, Harbour Island and North Eleuthera stops

Nassau, Bahamas – Flying a private jet and entering with great opulence into the country, Prince Harry stood at attention as the National Anthem of The Bahamas was played at the Saluting Base by the Royal Bahamas Police Force following his arrival and welcome at Odyssey Aviation yesterday
Accompanying the Prince at the Saluting Base: Deputy Prime Minister and Minister of Foreign Affairs the Hon T. Brent Symonette and Commodore of the Royal Defence Force Roderick Bowe. Prince Harry is in The Bahamas March 3 – 5 to commemorate the Diamond Jubilee of his grandmother, Her Majesty Queen Elizabeth II.
While 380 die-hard FNM supporters traveled to EXUMA from Nassau last night to attend an FNM rally, Customs and Immigration officer abandoned their posts at the gateway, leaving passengers in the hundreds stranded on long long lines.
Some of the passengers fainted while others were left cussin like sailors on the stall lines.
Here what we do know. Prime Minister Hubert Ingraham told workers to go back to work as he spoke with ZNS live from Exuma; threatening  them that if they don't return to work they will not have a job. Mr. Ingraham said, "It will not happen tomorrow [Sunday]. We need workers back on the job as tourism is our number one industry. We need that revenue and what happened today [Saturday] will not happen tomorrow [Sunday."
Meanwhile PROBLEMS LOOM ON THE LABOUR FRONT!!! The President of the Bahamas Trade Union Congress, Mr. Obie Ferguson, in response to the Prime Ministers Television Message, invite all executive members of the Bahamas Trade Union Congress, The Doctors Union, Nurses Union, Air Traffic Controllers Union, Bahamas Customs Immigration and Allied Worker Union, Bahamas Stevedores Union, Sandilands Maintenance Union and BIEMSU, to a special emergency called meeting, on Sunday March 4th 2012 at 8:00 p.m. at the House Of Labor, Wulff road.