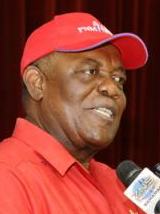 Remarks The Exumas & Ragged Island
Constituency Headquarters Opening Rt. Hon. Hubert A. Ingraham/Party Leader
3 March 2012
Exuma;
FNMs:
Colour Red is in the great constituency of The Exumas and Ragged Island.
We brought Colour Red to Exuma and we came here with one of your own – Phenton Neymour. I've come to ask you to vote for him next time, to vote for me, to vote for the FNM, to vote for yourselves and your children because we are the best deal for Exuma.
Exuma, don't get left behind! In 1997 we had the good fortune of winning every seat in the Family Islands except one – Sir Lynden Pindling's seat.
Exuma, it looks to me like we are going to win all the rest! Come with me! You've been with me once before – come back! I miss you Exuma! I assure you, we mean you good.
You have been fishing on the PLP side of the boat for the last 35 years – come on my side! And if you don't know, I am a fisherman – I know the drop, I've got the bait!
You know, I was fascinated by George Smith, your former MP, because he is vex with his own Party for running Anthony Moss.
Now, why do you think George is so cross with Tony? That sounds funny to me!
He said he cannot support Tony in good conscience because he can't "inflict such incompetence on the people of Exuma" any further.
Said he: "As strong a PLP as I am, as much as I would want us (PLPs) to win, it would be wrong of me to support someone who cannot play a role in the social and economic recovery of Exuma."
Now this is George Smith, a senior PLP talking about their candidate.
Mind you of course, he 'coulda said the same thing about Perry Christie.
But Tony Moss is not the only one he does not want to run. He said the same thing about Shane Gibson, Leslie Miller, Alfred Gray and Obie Wilchcombe.  That's a serious crew.
I want to know what George knows about all of them that caused George to say they shouldn't be running. Well, that is their business.
Exuma,
I'm here in Exuma and I am here to deliver more for you because I have brought you one of your own. You have had the other man from Exuma for 10 years; five of them were when the PLP was in office. And he never got elevated.
You know, Exuma used to be a big time place. You used to have two Ministers in the Cabinet. Why are you settling for a back-bencher? You can have a general you know!
You know about all the promises they made to you. There was the Master harbour, the mid-sized cruise ships, the hospital – they promised you everything but the did not deliver.
They are not in the delivery business you know. That is the business we are in. If you like promises, the PLP is the Party for you.
Over the past decade this island's population grew from 3,571 in 2000 to 7,314 in 2010. Now, population only grows when you have economic activity you know. When you don't have that, you get de-populated. People in The Bahamas are coming to Exuma looking for opportunities.
Exuma:
Cable TV Access
I want you to know that we are quite aware of all your concerns. Firstly, let me talk to you about your concerns with Cable.
You know, the Cable man only wants to put Cable where he knows he is going to make money. But we want to make sure that every Bahamian can watch ZNS, ABC, CBS, NBC, CNN and some other channels.
And so that you can watch me in the House too!
To the communities from Hooper's Bay to Moss Town to Farmer's Hill, Roker's Point, Rolleville and Baraterre in the West, and in the East from Nicholaston, Rolle Town, Forbes Hill, Hartwell, Moore Hill and Williams Town, expect to get your Cable before Easter.
Exuma:
We came here to offer you Phenton Neymour. We will be back again. After I ring the bell I am coming back here one more time to have  a mass rally.
I want to thank Exuma for coming out by the hundreds! This is clearly the largest meeting we've had in Exuma!
Exuma is turning away from yellow! Exuma is going red! You make my heart good. I want you to be with me. You are a developing part of The Bahamas, an economic centre and you should not be on the outside looking in.
Phenton is our man. Make him your man. We will work for you. We will deliver for you.
On Thursday or so of this week, the plans for the new community hospital will be presented to your Town Planning here, and we expect to go to tender for the construction of your hospital and the one in Marsh Harbour by the end of this month (March).
Exuma:
We have the better record, we've got the better team, we've got the better vision, and Hubert Ingraham is no Perry Christie!
Thank you,
Goodnight.