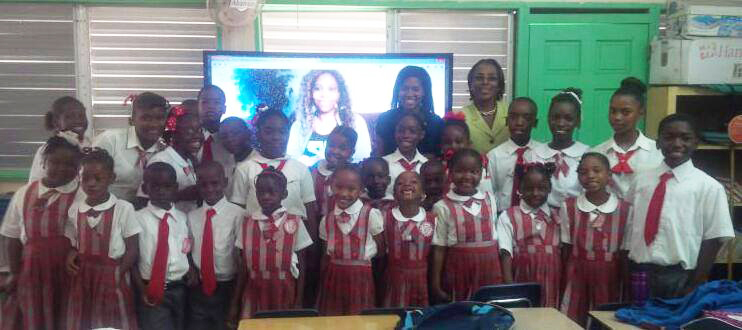 By The Ambassador Agency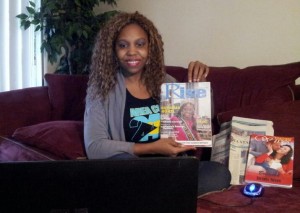 (Eleuthera, The Bahamas)… Despite being under a winter storm watch in Atlanta, Georgia, Bahamian media personality and publicist Arthia Nixon was able to read to the students of Eleuthera's P.A. Gibson Primary School from  her children's book The Magic Grouper and Other Tales. Thanks to technology, the Eleuthera native was seen on a large screen television in front of grades two through six and got to correspond with them through chat and live video streaming before she screenshared her book so they could all read together.
Nixon resides in Atlanta where she is a consultant, publicist, Caribbean media correspondent, publisher of Rise magazine and the youngest editorial member of The Florida Star and Georgia Star African-American newspapers. Her mentor, the owner of the newspapers, Clara McLaughlin, was the first Black woman to own a television station at a time when Oprah Winfrey was being nationally syndicated.
"It's a tremendous honor to celebrate Black History Month in the US and Literacy Month in The Bahamas as someone who is being highlighted – and before I'm even 30!" said Nixon. "My daughter had a snow day so she was able to join in and witness the way Bahamian students say things in unison, observe their manners and it made quite an impression. I am incredibly humbled and shed a few tears when the school bell rang for lunch and the children didn't want to move. Principal Ingraham and Ms. Goodman thought enough to invite me as an Eleutheran to make history as a part of their first live online session and that right there is just mind blowing. They've inspired me to get back into writing for the children of my homeland and I will be dedicating my next children's book to them as well as sending them a few copies for the school's library."
"I wanted the students to see a Bahamian writer and, as luck would have it, Arthia is a Bahamian writer from Eleuthera who meets many demographics," said the school's literacy coordinator and teacher, Gabrielle Goodman. "Arthia's father was at the school the morning of the reading, her little sister is a student here, plus some of the children have parents who attended school with her. Because of that, this is someone we can proudly say is one of our own.  It was a great reunion for all of us. They were inspired to see someone who started off just like them from such a small place end up overcoming obstacles to be successful. She showed them photos from her magazine with people like Kenedi Treasure, Jacob Latimore, Mindless Behavior, Rupee and other celebrities and diplomats to show them how far her writing has taken her."
"Our theme this year is 'Reading Accelerates Success'," Principal Levada Ingraham told Nixon as she thanked her. "You've given us a wonderful example how far reading can take you and now you're someone who writes so that we can all read. We at P.A. Gibson pride ourselves as a school of excellence and by using technology to take this tremendous step, we are showing that we are first class in connecting our students to new and exciting opportunities."