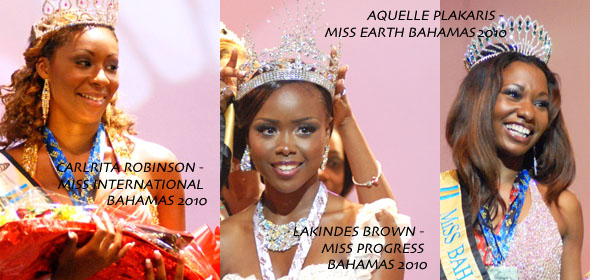 The 2010 Miss Bahamas Beauty Double Feature Pageant held last evening was nothing short of spectacular. Dancing to the Dazz Band "Let It Whip ", the 18 contestants took to the stage all eager at capturing one of the organization's prestigious titles. Parading in colorful national costumes, Brazilian cut swimwear and latest trend evening gowns they wowed the judges and audience alike. At the end of the night, the judges' selection received the approval of the audience at large. On hand to crown the newly elected queens were the outgoing queens Miss Krystle Brown- Miss Earth Bahamas 2009 and Miss Aisha Delaney – Miss International Bahamas, who both tearfully waved farewell while giving the organization and its President Ms. Gaynell Rolle high praise.
2010 MISS EARTH BAHAMAS –
Aquelle Plakaris  24 year old pageant veteran having competed in last year's pageant, stands 5′ 10 and boast stats of 32-26-36. This aspiring United Nations Ambassador already has her eyes set on creating a Miss Bahamas Foundation. An avenue for pass and future Miss Bahamas to come together and create programs geared at sensitizing school age children on the importance of National Pride and taking care of Mother Earth.  She is a recent graduate of AC College in Atlanta Georgia. She will represent the Bahamas at the Miss Earth Pageant being held in Vietnam.
2010 MISS INTERNATIONAL BAHAMAS –
A lover of Modern Art through the world of dance, 19 year of Carlrita Robinson has represented the Bahamas on many international stages performing as an accomplished dancer. A student of the Success Training College, she desires to own and operate a luxury Salon and Spa. She is keen on passing on her talent of dance to others, as she sees this as the greatest avenue of self-expression where you are the master of yourself.  She will represent the Bahamas at the Miss International Pageant in Ho Chi Minh later this year.
2010 MISS PROGRESS BAHAMAS –
Strikingly beautifully, 23-year-old Lakindes Brown is fierce and feared as a master of the catwalk. Health conscientious and fitness crave, she believes the body should be in perfect shape and condition to host ones spirit. An aspiring Entrepreneur in the field on Business Management, she is a featured face in local modeling advertisements and publications. With a platform to promote the "Benefits of Cultural Diversity" she will represent the Bahamas at the World newest, yet highly ranked International Pageant in Europe Miss Progress.
First runner-up  to the queens Krishanna Culmer will represent the Bahamas and the Organization at the Miss Carnival Pageant and Shantell Sweeting, second runner-up sashed Miss Caraibes Hibicus Bahamas will represent the Bahamas at the Caraibes Hisbicus Pageant in Saint Vincent later this year.