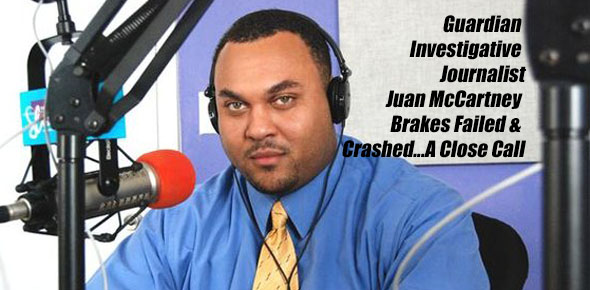 Nassau, Bahamas — An NB12 /Nassau Guardian reporter was badly injured in a freak accident over weekend.

Bahamas Press has learned investigative journalist, Juan McCartney, was the sole passenger in a vehicle this weekend when it turned over and crashed into a tree.
BP has just gotten word of this shocking incident and we wonder if this was an attempt on the journalist life. We've learned early investigations reveal the incident could have been a sabotage. McCartney's breaks mysteriously failed and is believed to be the genesis of the accident. McCartney received deep lacerations to his forehead and his scalp had peeled back until his bone was exposed. We also have learned the writer has lost three points of blood.
You would note McCartney has a reputation of hard-hitting stories. Recently he unveiled the discovery a Lyford Cay man found dead in the Jacuzzi at the resident of Louis Bacon. Police never reported the incident. McCartney was also the reporter who exposed the proposed tax by ZNS BOARD to be levied on all Cable Bahamas subscribers.
Since this incident with McCartney, BP has over the weekend elevated its own threat level CODE RED following a threat from a senior government official. We are ready wiling and able to respond if necessary. However, that senior government official ought to know we will not cease, surrender or retreat.
The ax has been laid at the foot of the tree and the woodsman cometh.