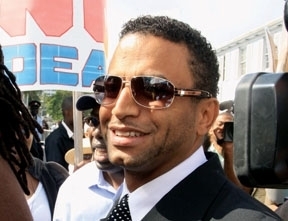 Bahamas Passport Office responds to Branville McCartney
Nassau, Bahamas – The statements and assertions by DNA leader Branville McCartney on the fee for emergency passports are patently misleading and untrue. The emergency fee does not apply to any person who applied for a passport before 1st July 2015. It is not cashing in on the public. It will affect a very limited number of people. By simply planning ahead, the fee is not applicable.
The realities of the resources the country has at the moment to deal with these issues dictate what we can reasonably do without breaking the bank.
The new fee structure does not apply to anyone who applied before the 9th July 2015 or in a timely manner. The passport office has just announced special measures to deal with anyone who needs their passport who applied before 9th July 2015.
The fee does not apply to anyone in a medical emergency.
Students returning to school or those who are representing the country abroad already get and will continue to get special consideration.
The fee became necessary because the Passport Office was often inundated with requests from people who planned trips costing in the tens of thousands of dollars but did not check to see before they attempted to travel if their fifty dollar passport had expired. They would present themselves to the airport and find out there that the passport expired; then run to the passport office and expect the passport office to produce the passport within minutes, dropping everything to serve them.
Sometimes people have been called in on weekends and after hours to fulfill these emergency requests. Inevitably one of the reasons why people who followed the rules and applied in a timely manner could not and cannot get their passports on time is because of these untimely requests. The fee is meant to compensate the office for the costs incurred.
In addition, it is meant also to deal with those who chronically lose their passports, largely through negligence.
The Department is not in a position to meet the overtime costs without some source of payment.
The matter will continue to be reviewed and tweaked as time progresses. We appeal to the public in these special circumstances for its understanding of the matter.
The statement by Mr. McCartney is  disappointing.