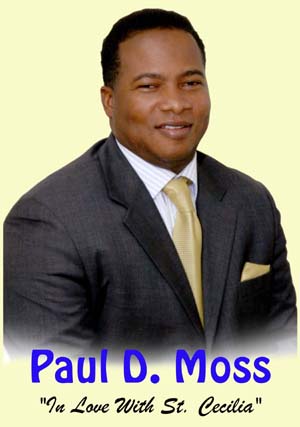 PRESS STATEMENT — "I am asking the government to reconsider its road reversal plans on Market and Blue Hill roads as it is utter madness and very distressing for the businesses and residents of the affected areas especially those along Blue Hill, Market Street side roads and Ridgeland Park" said Paul Moss candidate for the St. Cecelia area commenting on the one way roads of Blue Hill and Market Street.
"I have seen for myself and I have spoken to many business persons and residents of the St. Cecelia area and every one is crying about this obviously poorly thought-out road change. In deed I am also frustrated in trying to traverse the area" Moss continued.
"When planning such a major change, it should have been well annunciated as was done with the Bay/Shirley Street changes. Many people in this area have invested a lot of money for their businesses and homes and now they stand to lose it all. Of course children in the area (where recreating sites are lacking) are in eminent danger of being hurt.
We must consider the people. They feel helpless with no where to turn. Buses are all over the place now, people are being delayed and it does not help when they are doing road works on the affected roads.
"I say that they must stop it immediately, plan it properly and then come back to the people. I urge all residents to have patience and we will constitute a town meeting next week in the area to discuss this matter and the next plan of action." Moss concluded.