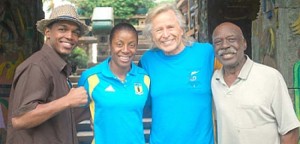 FASHION designer and business mogul Peter Nygard continues to support the Bahamian national sports programme. His latest contribution was a reward to medallists in the recent World Championships.
Nygard presented Debbie Ferguson-McKenzie with a cheque for $5,000 and another for $2,500 for her anchor performance in the silver medal winning 400m relay team and bronze medal in the 200m respectively at the 2009 IAAF World Championships in Berlin.
He expressed amazement that Ferguson-McKenzie continues to perform so well in track and field after more than a decade of representing the country at the highest level. "I saw Debbie fly on that anchor leg, her feet never touched the ground," he said.
Nygard said that back in 2000, he made an appeal to the corporate community for them to contribute to the girls' training and funding, stating that he would match the amount they received.
Overwhelmed with gratitude, the three-time Olympian said that too often, people who are successful forget about striving young people, but Nygard never has. She said that during the 10 years since the golden Olympic performance, Nygard has continued to provide moral and financial support to the 'golden girl' and other Bahamian athletes.
Ferguson-McKenzie said the gold medal earned by the 'golden girls' in the 2000 Olympics in Sydney, Australia, is also owed in part to Nygard. A surprising revelation 10 years later, she recalled the events leading up to "the race of a lifetime" for the 'golden girls.'
F
erguson-McKenzie said that Nygard invited the team to a special dinner before the race. It was there that he asked the team of Savetheda Fynes, Pauline Davis-Thompson, Chandra Sturrup and herself about their spirit, team unity and gave them an "attitude check" and placed the race in its proper context in what could be the biggest event of their lives.
Also on hand to witness her presentation was Olympic and now professional boxer Taureano Johnson and sailing legend "King" Eric Gibson, who both shared the track star's sentiments.
Nygard sponsored Johnson for his high-calibre training in Cuba with some its most successful coaches. Johnson now boasts of better skills and a second language, while Gibson noted that many regattas would not have taken place if it were not for Nygard stepping in and funding them all the way.
Nygard expressed his commitment to help to fund other up and coming Bahamian athletes and said that, in the near future, more cheque presentations will take place.
A decathlete himself, Nygard has been passionate about tennis and beach volleyball. He has plans to develop a beach volleyball team that could compete in the Olympics, representing the Bahamas in the future.
Nygard also recently made a presentation of $10,000 to the Bahamas Olympic Committee and president Wellington Miller, prior to the Bahamian team leaving to participate in the Commonwealth Games in India.
All of the athletes present stated that Nygard has never asked for anything in return except that they perform at their best and make the Bahamas proud.