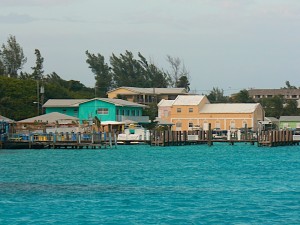 Alice Town, Bimini — Violence erupted on the small community of Alice Town Bimini at the High Star Bar Early Saturday morning. Gunmen rained bullets into an open crowd celebrating the birthday of a local by the nickname "Cancer". The incident occurred around 3am.
Residents in the quiet community tell us, the silence of the morning was erupted when two rivaling groups opened fire on each other during the birthday bash. We are told a resident from Nassau began firing shot into the air and then on locals in the community.
Some three persons – we are told – were shot during the episode; two of which had to be flown into the capital for medical treatment. The shooter was not so lucky as a gang of locals hunted him down in the wee hours leaving him fatally wounded.
Police on the island discovered the shooter, who is alleged to have started the brawl, dead behind the Recession Bar near the Radio Beach in Alice Town. The victim was shot multiple times about the body. His killers fled the scene.
This is the 163rd murder since 2009 and is the second in less than 24-hours.
Meanwhile BP's ground team on the island of Exuma is also not reporting a quiet night following a boating accident early this morning.
BP can confirm the mishap occurred near Staniel Cay, in the Exumas around 2 am this morning. We are told some six persons were onboard the vessel when it collided into an unknown object.
One of the victims died in the freak accident while two were airlifted to the capital. The boat we are told is believed to have run into Fowl Cay at a high speed. The passengers were returning to Long Island  following a fun night of partying on Staniel Cay.