When ya learn Gibson supports Minnis and not Pintard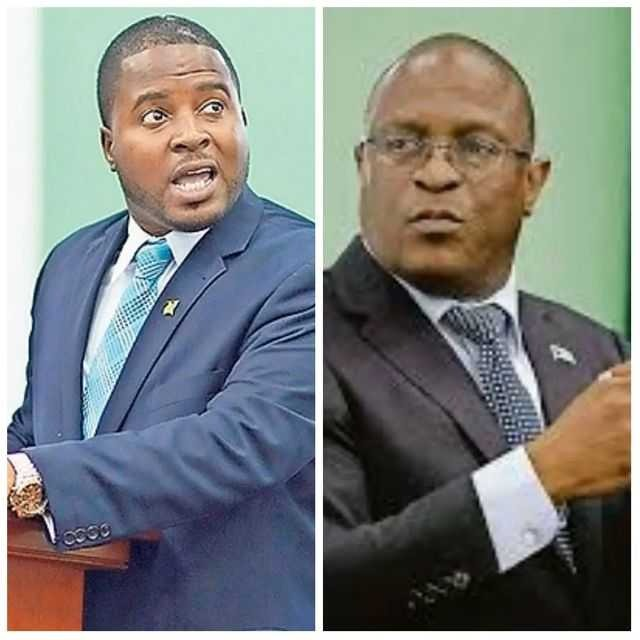 NASSAU| Opposition Leader Michael Pintard has made the request of the Speaker to have his FNM Long Island MP Adrian Gibson removed from the Public Accounts Committee (PAC), and replace him with the Central Grand Bahama MP Iram Lewis.
Pintard suggested that his decision is due to the fact that Gibson is currently facing several alleged corruption-related charges.
Gibson faces charges of bribery, conspiracy to commit bribery, receiving and money laundering connected to contracts Elite Maintenance and Baha Maintenance and Restoration received during his tenure as chairman of the Water & Sewerage Corporation. He was charged back in June last year with a trial to begin next month.
We at BP wonders if this is the real reason Pintard gives, because when Gibson was initially charged it was Pintard who made that claim that he will allow justice to take its course as the member was not convicted on the allegations. So what is the rush now to have Gibson removed from the PAC?
Well, former Prime Minister and MP for Killarney Hubert Minnis advised Gibson to stay in parliament. Pintard sees Gibson as a threat to his leadership. That FNM coup by MInnis could happen any time in 2023.
Pintard on the other hand is distancing himself from the many members who are set to be charged in prosecutions set to come. He warned members of his Parliamentary team in a meeting recently that serious criminal prosecutions are coming and those corrupted FNMs who are guilty should remove themselves from the party structures.
And despite these repeated warnings by Pintard, Minnis keeps raising his hand and warning potential FNMs candidates that the FNM is his party now.
Presently, Iram Lewis, Kwasi Thompson, and Adrian Gibson all back Hubert Minnis to return as leader of the FNM! This will get interesting as the days progress.
We report yinner decide!