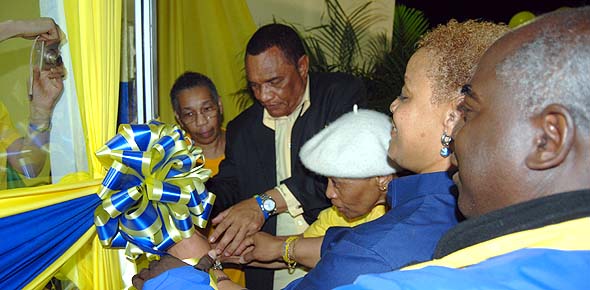 Nassau, Bahamas — PLP chiefs Perry Christie and Philip Brave Davis last evening opened the Sea Breeze command centre on Joe Farrington Road opposite Galilee School.
Party leader Christie encouraged the team in the community to continue their hard work as they deliver new hope to the Bahamas.
He told the many residents gathered that a strong woman like Hope Strachan, who has preformed as a committed Senator, deserves to be elected to the House of Assembly and will no doubt represent the people of the community well in the next PLP government.
Party deputy leader Philip Brave Davis told the community gathered that the time has come to send a representative to Parliament who will speak for the people of Sea Breeze. He pointed to that fact that the present MP has become silent when it comes to speaking about the concerns of this area.
Davis said, "The global economy hurt The Bahamas but the FNM's mismanagement and short-sighted policies made it so much worse.
"They raised taxes across the board when other governments worldwide were reducing tax burdens to help people through tough times."
Sighting attention to the poorly managed roads, which have disrupted the once quiet community of Sea Breeze, Davis added, "They borrowed millions to do the roadworks, but gave too many of those jobs to foreigners – all that debt our children and their children are on the hook for and we didn't even stimulate our economy or ease Bahamian unemployment!"
"Prince Charles has been dug up and paved. Dug up again and paved, and right now it is dug up again."
He said this has reeked havoc on businesses in the area and has forced the closures and loss of jobs for workers.
The deputy leader urged residents to register and vote for the future of this country, adding that the time has come for Bahamians to believe in the Bahamas and elect a government that will put people first.