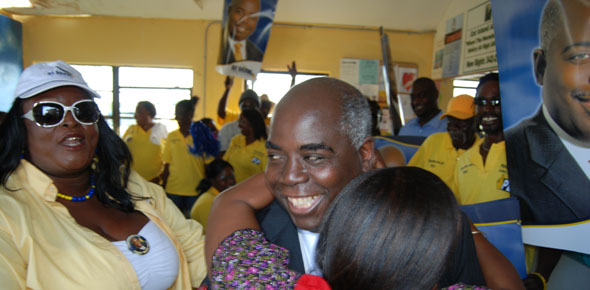 Philip Davis greeted by a rallying crowd of supporters in the LAND OF THE BRAVE!
Nassau, Bahamas — Making his trek across the central and southern Bahamas, PLP Deputy Leader and incumbent for Cat Island, Rum Cay and San Salvador, Philip Brave Davis moved through his constituency as supporters greeted him in Old Bight.
Mr. Davis, just out of a successful campaign swing in Eleuthera, shared with his supporters that the PLP is ready to govern on day one.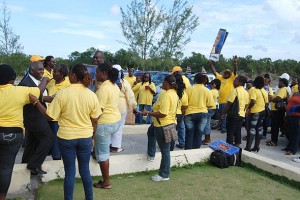 "Much of what they stopped, cancelled and reviewed against your best interests will begin immediately when the PLP is returned to office. We care about people! And when your Progressive Liberal Party is elected as the next Government of Bahamas not long from now, you will have a Government that puts people first!"
It was on Cat Island where Prime Minister Hubert Ingraham told reporters there was nothing devastated in the Bahamas following Hurricane Irene.
However, on the floor of the House, Mr. Davis sought repeated requests for assistance from the government in the storm's aftermath. A slow response followed.
Mr. Davis assure Cat Islanders, "You can be certain of one thing! When we are returned to office, you will not have a government who can only respond to communities during election time. You will have a PLP government who will be fighting for you all the time."
The PLP Deputy Leader is expected to make more stops in his Central Bahamas before returning to the capital for the Party's Candidates Launch scheduled for this Friday, February 10th, at 7:30pm in the Wyndham Resort Ballroom.