In the centre of this photo is Delano Munroe DNA candidate for MICAL. He will become the latest DNA candidate to be axed.

Wayne Munroe to be named as DNA Deputy Leader…Delano Munroe to be dropped by the Party…
Nassau, Bahamas — Breaking news happening right now in the DNA confirms two things will occur in the coming days and you heard it here first on Bahamas Press.
Almost immediately DNA leader Branville McCartney via a written statement will announce the axing of another candidate: Delano Munroe.
Many of you will remember Munroe was the candidate who was ratified by the party for the MICAL constituency and clouded with a plethora of criminal charges before the court. We broke the story, just as we are doing this one, as to how Munroe was charged before the magistrate's court for stealing children's money in the JA programme which he headed up for almost 10 years.
Finally, after much pressure from the press and heat from BP, the DNA has decided to dump the MICAL candidate and select another.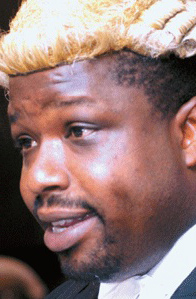 The second big breaking news emanating out of the DNA Party involves another shattering story first brought to you by BP.
Yesterday we expressed concern as to how both Bud and Bud LITE [Papa and Branville] were emulating each other by not naming a candidate for deputy in both parties.
Well, today Bahamas Press has been reliably informed, the DNA will drop its initial decision of not naming a candidate and will in the coming days [and perhaps hours after this report] name a deputy leader.
We can report, in a conclave setting called the "People's Summit", lawyer and longtime friend of Branville McCartney, Wayne Munroe, will be named. Our source in the DNA tells us, "The cards are heavily stacked to have Munroe named before the end of Monday. We believe he will enrich our party with the necessary legal mind at the top to help shape policies for the future."
Meanwhile, BP has learnt Perry Christie is gearing up for the largest political win he has seen for his party since 2002. BBB Analytics projects Christie could deliver the most vicious cut hip to Ingraham ever seen in Bahamian politics.
Earlier this morning the department of statistics revealed unemployment has climbed to 15.9% in the Bahamas with 15.1% in Nassau and a whopping 21.2% in Grand Bahama.
The FNM will rally in Exuma and Andros over the weekend while the PLP will host its PLP Candidates Launch for the 2012 GoldRush [General Election].