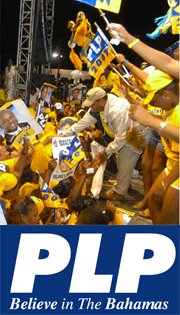 Press Statement By
The Progressive Liberal Party
October 25th, 2011
BEC's Chairman Michael Moss as reported in the Nassau Guardian on July 26th 2011 said "customers of the Corporation can expect to get a break in their Bills beginning October 2011".
Earl Deveaux, the Minister with the responsibility for BEC, as reported in the Nassau Guardian on October 7th 2011, publicly disclosed that "consumers can now expect cheaper power bills".
Despite the public commitments by BEC Chairman on July 26th and Minister Earl Deveaux on October 7th, that cheaper energy bills were on the way, the Jr. Minister of State for the Environment, Phenton Neymour, in today's (Oct 25th 2011) Nassau Guardian said "he does not anticipate any significant reduction in the Bahamas Electricity Corporation's fuel charge in the near future".
Whilst the majority of Bahamians bitterly complain about excessive high electricity bills, the disastrous mismanagement performance by this trio at BEC, who are clearly not working in concert, or even reading out of the same book, is making the lives of the average Bahamian even more unbearable.  Their disheartening performance, which is tantamount to gross negligence, has resulted in the FNM government's increasing of the basic rates of electricity, to counter the reduction of rates under the PLP.
The PLP reduction of the basis electricity rates at BEC was a first in the Corporation's history.  The hiking of the electricity rates by the FNM, during an economic downturn, is more of the same by this oblivious government!
The PLP is very mindful that thousands of Bahamians in New Providence, Grand Bahama and the Family Islands have been living without electricity for years and pledge as a matter of highest priority to generate jobs and address the very issues at BEC, so that the dignity of an ever increasing category of bewildered and downtrodden Bahamians may be restored.