Former Cabinet Minister and Parliamentarian Revered as a Leader and Nation Builder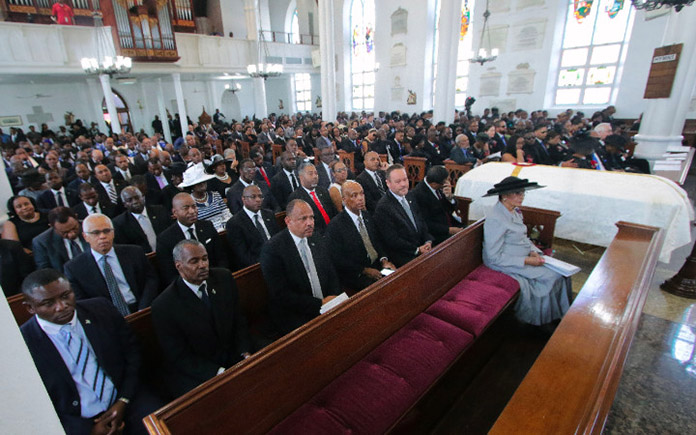 NASSAU, Bahamas – A cut above, a man with a heart for the people, a family man, a visionary leader who made a lasting contribution to his family, community and nation, is how Phenton Neymour, former Cabinet Minister and Member of Parliament was remembered as the nation celebrated his life and offered thanks for him.
He was laid to rest in Woodlawn Gardens, Thursday, August 2, following an Official Funeral at Christ Church Cathedral, George Street.
The four-hour service was attended by leaders of the nation, past and present, including Governor-General Dame Marguerite Pindling; Acting Prime Minister Peter Turnquest; Cabinet ministers; members of the Upper and Lower Chambers; the Opposition and former Prime Ministers the Rt. Hon. Hubert Ingraham and the Rt. Hon. Perry Christie.
Family, friends, senior members of the Government, justices, representatives of the Royal Bahamas Defence Force and the Royal Bahamas Police Force were among those who paid their respects.
He was diagnosed with colon cancer in February 2014 and on July 23, passed away at the age of 53. Minister Neymour served as Minister of State for Works and Minister of State for the Environment.
The funeral was officiated by the Rev'd Fr. Dwight Rolle, the Venerable James Palacious and the Rev'd Fr. Dwight Bowe. The service was marked with prayers, scripture readings, music, a recorded tribute by Cutelle Neymour, wife of the deceased; condolences by Kevin Hanna Sr., member, Phi Beta Sigma Fraternity; Ricardo Deveaux, President and CEO, the Bahamas Primary School Foundation; Pedro Delaney, President, Rotary Club of West Nassau and Byran Woodside, friend and former Cabinet colleague.
Remarks were given by former Prime Minister, the Rt. Hon. Hubert Ingraham; the Hon. Philip Davis, Leader of the Opposition and Acting Prime Minister Turnquest.
The former Prime Minister Ingraham recounted Mr. Neymour's positive qualities describing him as decent, forthright, loyal and honest. He said he was a man of conviction who, once committed to a cause, defended it fearlessly.
"Many men live longer lives, but achieve far less," said the former Prime Minister.
"When he and colleagues joined the Free National Movement (FNM) they brought fervour, dedication and fresh ideas to the party, and they served the organization with unmistaken loyalty and fidelity."
He said Mr. Neymour was bright, confident, articulate and dynamic, and, along with his colleagues developed sound, practical recommendations to make The Bahamas a more prosperous and liveable place.
Acting Prime Minister Turnquest, said Mr. Neymour taught the nation how to live and die with grace and courage.
"Just recently Phenton reminded us of how precious is life, how precious is each day, how precious are the memories we make and share with those we love," said Mr. Turnquest.
"His interest in public service undoubtedly came from his father Basil, a close friend of Sir Cecil Wallace Whitfield, a founding father and first leader of the FNM. A freedom fighter who was instrumental in the creation of the FNM and also served as a candidate in three general elections.
"Like his father, the political call and the call to public service resided deep in the heart of Phenton. Both men were deeply committed to national development and the advancement of Bahamians."
In his sermon, which was based on Psalm 137, Archdeacon Palacious urged the congregation to "hold on to their song".
"That is exactly what Phenton did. In the midst of excruciating pain he did not let it go.
"I am sure from heaven he is urging us to hold onto our song despite what you are going through. That is not God's plan for you. His divine will is that we could live the abundant life."
He said Mr. Neymour knew that he was going to die, faced it head on, held on to his song and looked death straight in the face.
Mr. Neymour's body was interred in Woodlawn Gardens, Soldier Road