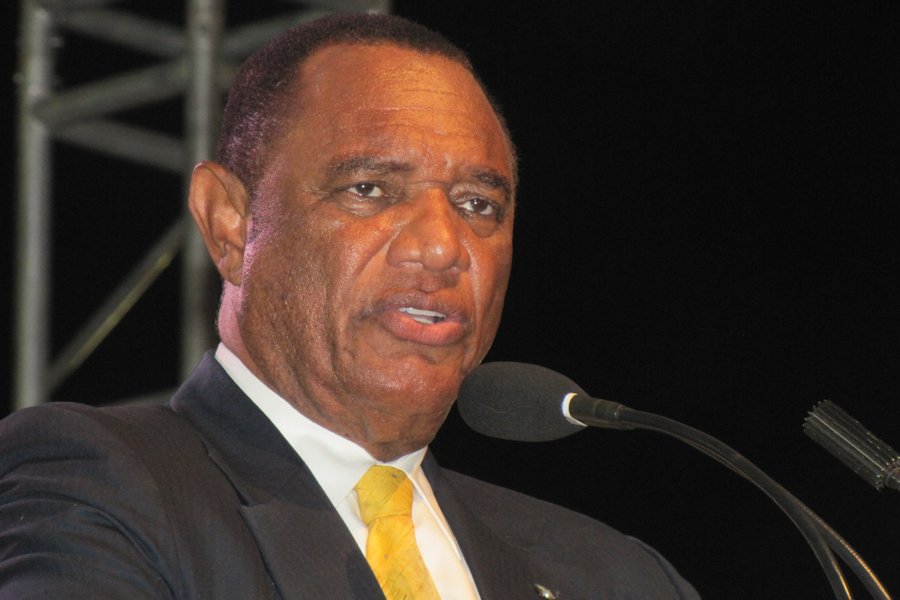 By Simon Lewis
Bahamas Information Services
FREEPORT, Grand Bahama – Prime Minister the Right Honourable Perry Gladstone Christie on Friday morning described the late Sir Albert Miller as a man of legendary status and one who made a tremendous impact on the growth and development of Grand Bahama Island and the country as a whole.
The Prime Minister was participating in the official viewing of Sir Albert's body, which on Friday lay in repose at the Gerald Bartlett Police Headquarters in Freeport, Grand Bahama.
Born February 19, 1926 at Long Island, Sir Albert was 89 when he passed away on August 18th 2015. He served for more than thirty years as a senior executive of the Grand Bahama Port Authority, retiring as Co-Chairman of the company.
Prior to that Sir Albert was a distinguished police officer having received many colonial medals. He joined the Force in 1943 and rose to the rank of Deputy Commissioner.
He was an outstanding businessman, owning and holding shares in many companies. He was a Rotarian and former Chairman of the Grand Bahama Island Tourism Board and was quite active in the Anglican Church.
Addressing family members and several Cabinet Members assembled in the tastefully decorated foyer of the Gerald Bartlett Police Headquarters Mr. Christie said "here lies one of the great men of our time."
Continuing, the nation's leader said that if the story is properly told of Albert Miller "he would be represented for his children and their children, and their children's children as one whose life typified greatness."
Mr. Christie stressed that the late Sir Albert was not born with wealth, and given an opportunity he maximized that opportunity in every aspect of his life. Also, that wherever there were challenges, Mr. Miller continued maximising opportunities, and lived a life that is clearly indicative of accepting every challenge and overcoming many challenges.
He said that Mr. Miller walked with kings and kept the common touch.
The Prime Minister added that he had the opportunity to meet and talk with Sir Albert just prior to his death, "and satisfy myself that he had run his full course and he was absolutely satisfied with the race he had run.
"He knew completely that he had done all that he was expected, and even more to do, and felt good about it. And he was able to see this very occasion here that there would be his passing and our coming together to celebrate his life.
"We came down, my colleagues and myself to demonstrate of behalf of the country our esteemed privilege we have had in knowing him," he said.
Mr. Christie feels that the life story of Sir Albert must be captioned.
"This life (Sir Albert) is too meaningful to allow it to go into oblivion in history. The achievement is too powerful not to have it be used as a source of inspiration for young generations yet unborn, who would know that a man came from Long Island and became the best police officer and became the best corporate man, became the best daddy, the best husband. God bless him and may he rest in peace," the Prime Minister concluded.