THE NATION MOURNS ON THE PASSING OF Dr. B. J. Nottage!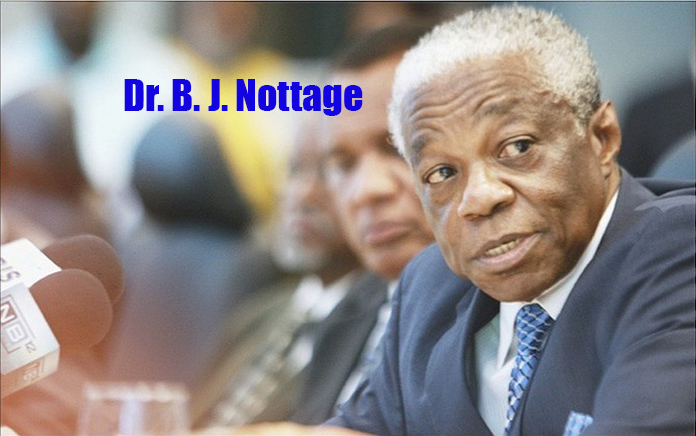 Nassau, Bahamas – Condolences begin to pour in for the former Minister of National Security Dr Bernard Nottage who passed away today at the age of 71.
Dr Nottage was airlifted to a hospital in Florida on Friday after falling ill last week.
Over the course of his political career, the former Bain and Grants Town MP served as a Cabinet minister in one Pindling and two Christie administrations.
Prime Minister Dr Hubert Minnis has released a statement paying tribute to Dr Nottage, calling him an "outstanding medical doctor and political leader".
The PM said, "I am deeply saddened to learn of the passing of my parliamentary and medical colleague and friend, Dr. Bernard J. Nottage, former Minister of National Security and former Member of Parliament. Dr. Nottage was an outstanding medical doctor and political leader.
"But he was first and foremost a Bahamian patriot and native son, who at his core, was deeply committed to the development of The Bahamas and the Caribbean.
"B.J. as he was affectionately known to us all, was born into a sporting family and so it was no surprise that he went on to become an outstanding athlete and sports organizer. He nurtured generations of aspiring athletes in The Bahamas as well as in the region.
"He was one of those responsible for first bringing the Carifta Games to The Bahamas and he remained a committed patron of sports to the very end.
"Dr. Nottage earned the trust and affection of many patients who found in him a fine medical practitioner who demonstrated an ethic of care and compassion.
"B.J was a Bahamian patriot, whose high sporting profile led him to frontline politics which he used as a platform to advance national development and the common good. He was a dedicated member of the Progressive Liberal Party.
"He served for a time as Chief Executive Officer and Leader of the Coalition for Democratic Reform (CDR), along with individuals such as the late Charles Maynard. The CDR was an incubator for many innovative policy and programmatic ideas which endure.
"Our compatriot, brother and friend, B.J has finished the race. He has passed the baton on to a new generation of Bahamians. His commitment, caring and all around good nature will be missed.
"In due course, the Government will announce an appropriate tribute to this Bahamian patriot.
"On behalf of a grateful nation, and on my own behalf and that of my wife, Patricia, I offer condolences to his wife Portia, his children, siblings, other relatives and his many friends at home and aboard.
"May He Rest In Peace."