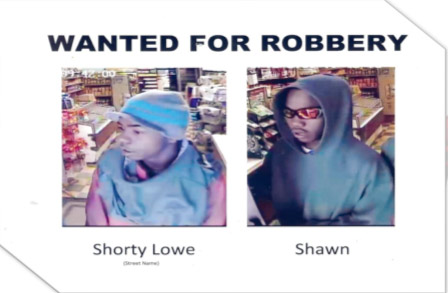 Nassau, Bahamas – The roof of an unoccupied building on the grounds of Police Headquarters was totally destroyed during a fire on Wednesday 6th March, 2013.
According to reports shortly after 2:00 pm officers of Fire Services observed smoke emanating from Ranfurly House, which is located in the western area of Police Headquarters.
Initial reports indicate that around 10:00 am officers were conducting a routine burn,when the embers reportedly fell onto the roof of Ranfurly House.The blaze was confined to the roof of Ranfurly House and extinguished within a relatively short period of time; thus preventing any other property damages.
Police want your help in getting Shorty Lowe and Shawn off the streets…
Police are requesting your assistance in locating two men whom they want to question reference to an Armed Robbery.
The incident reportedly occurred around 10:00 am on Saturday 2nd March, 2013 at a business establishment Market Street and Oxford Avenue.
Preliminary reports indicate that two (2) men, one of whom was allegedly armed with a handgun entered and robbed the establishment of an undetermined amount of cash and cell phones cards and fled the area in an unknown direction.
The men go by Shorty Lowe and Shawn.
Anyone with information that can assist police in locating these men is asked to contact police at 919, 322-333/4, the CENTRAL DETECTIVE UNIT @502-9990/1 or CRIMESTOPPERS @ 328-TIPS.