Senior female managing partner confront police for her man…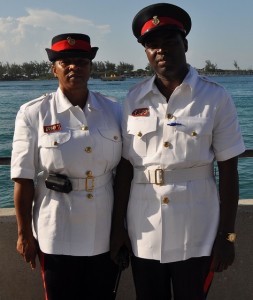 Nassau, Bahamas — It was high drama at a noted law firm on East Bay Street yesterday as police officers showed up to arrest a suspect wanted for questioning.
The person in question is the manager at a popular graveyard here in the country, which is believed to have sold scores of plots over and over again.
Bahamas Press broke the story just two weeks ago where we reported a class action lawsuit could hit the cemetery and a powerful family here in the country.
We can report complaints have been filed – some as long as seven years ago – with authorities that suggest something is sinister at the cemetery and perhaps there is a serious crimes therein.
According to a daughter, whose father was buried in the famous graveyard, she had no way to find the burial plot of her deceased father who was interred in the cemetery some three years ago.
The story is a familiar one. The operator of a cemetery in Chicago got 19 years for reselling funeral plots.
The Burr Oak Cemetery, where lynching victim Emmett Till, legendary blues singers Dinah Washington and Willie Dixon and thousands of others were buried, is one of the Chicago area's most storied black cemeteries. But its legacy was forever tainted with the discovery that four cemetery workers had unearthed more than 200 graves from the front of the cemetery, including Till's, dumped them in unmarked, mass graves and resold the original plots to new families.
Police entered the law firm yesterday with high drama, telling the suspect he was wanted for questioning by the CDU. A senior female lawyer was in a meeting with the cemetery manager at the time. The man wanted by police then hid himself deep in a dark room in the office, where many stories of hot sexual encounters by the couple continue.
Police had to rush into the upstairs office and literally drag the suspect out of the firm.
The ordeal didn't go quietly though, as the senior lawyer wanted to take on police for her man, at times yelling and gesticulating like a jungaliss patting her weave for her man that was about to be taken into a patrol car.
A female police officer then warned the senior female attorney that if she did not remove herself out the way, a squadron of Rapid Strike lawmen would quickly saturate the building and take down anyone attempting to prevent the arrest of the cemetery manager.
The development left staff in shock and clients in horror with some concluding: What kinda brothel joint is this?
WE REPORT YINNER DECIDE.