First Bahamian to ever make an Olympic Swimming Final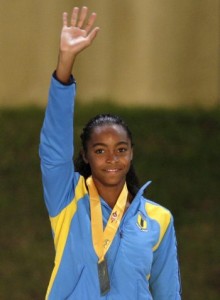 Auburn's Arianna Vanderpool-Wallace (Bahamas), Texas A&M's Alia Atkinson (Jamaica), Georgia's Kara Lynn Joyce (USA), Alabama's Arlene Semeco (Venezuela), and Florida's Sarah Bateman (Iceland) all compete in this event at 5:00 am.
Vanderpool-Wallace advanced to the semis with a time of 24.85. Joyce and Bateman made up the majority of a three-way tie for the last spot in the finals at 25.28, but Great Britain's Amy Smith won the swim-off.
Atkinson (fourth in heat, 25.98) and Semeco (third in heat, 25.56) did not advance.
Vanderpool-Wallace was third in her semifinal heat at 24.64, good enough to make the finals.
The medal round is Saturday at 2:30 pm.