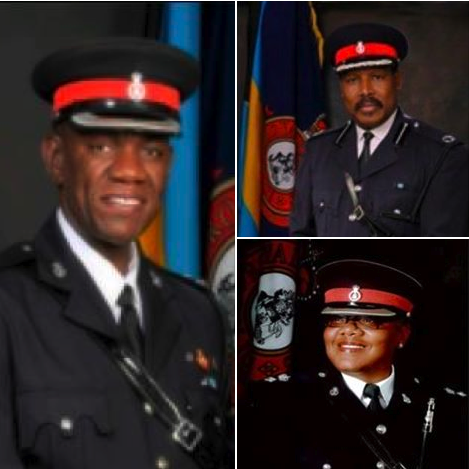 Nassau, Bahamas — The Commissioner of Police Ellison Greenslade announced today the following promotions of a number of Senior and Junior officers within the Royal Bahamas Police Force, which became effective on 1st October 2014. We know the promotions are necessary and from what we see there are some good hardworking people in this exercise.
We congratulate Assistant Commissioners Anthony Ferguson, Emrick Seymour, Leon 'DA GENERAL' Bethel and Stephen Seymour.
We also salute the new Superintendents to Saaistant Commissioner Supt. Melvin Lundy, Carolyn Bowe and Stephen Dean. There stellar officers we know will assure the integrity of the institution.
We particularly want to congratulate the country's new SUPERINTENDENT TO ASSISTANT COMMISSIONER Stephen Dean and also our head of CDU Paul Rolle.
Dean's interactive role to keep the public updated as well as his
coordination with URBAN RENEWAL 2.0 has greatly impacted the lives of ordinary citizens across the Bahamas. This task in keeping communities safe was indeed a huge task and today restoration has come to may communities over the last two years. This is a much-deserved promotion.
We also salute Paul Rolle, who has brought new zeal into the CDU. In that department alone we have seen major takedowns in criminal bad behavour and major reductions in areas of crime, again, this is a much-deserved promotion.
Here is a list of the other promotions…
ASSISTANT COMMISSIONER TO SENIOR ASSISTANT COMMISSIONER
In accordance with the provision of Article 119(2) of the constitution and on the recommendation of the Prime Minister, after consultation with the Police Service Commission, Her Excellency Dame Marguerite Pindling, Governor General of the Bahamas has approved the following appointments of four (4) Assistant Commissioners to the rank of Senior Assistant Commissioner.
SUPERINTENDENT TO CHIEF SUPERINTENDENT
In accordance with Article 119(3) of the Constitution, Her Excellency, The Governor- General, acting on the advice of the Police Service Commission, has approved the following promotions of Twelve (12) Superintendents to the rank of Chief Superintendent. They include:
Superintendent Elburt Ferguson
Superintendent Ronald Campbell
Superintendent Clement Lightbourne
Superintendent Kendal Strachan
Superintendent Ismella Davis
Superintendent Leamond Deleveaux
Superintendent Clayton Fernander
Superintendent Ashton Greenslade
Superintendent Samuel Butler
Superintendent Paul Rolle
Superintendent Clarence Reckley
Superintendent Theophilus Cunningham
PROMOTION OF INSPECTORS, ASSISTANT SUPERINTENDENTS
AND SUPERINTENDENTS
In accordance with Article 119(3) of the Constitution, Her Excellency, The Governor- General, acting on the advice of the Police Service Commission, has approved the following promotions:
17 – Assistant Superintendents to Superintendents
23 – Assistant Superintendents to Acting Superintendents
42 – Inspectors to Assistant Superintendents
34 – Inspectors to Acting Assistant Superintendents
34 – Sergeants to Inspectors
49 – Sergeants to Acting Inspector
PROMOTION OF CORPORALS AND SERGEANTS
In accordance with Article 119(5) of the Constitution, and after
consultation with the Police Promotion Board, the Commissioner of Police has approved the following promotions:
168 – Corporals to Sergeant
222 – Constables to Corporal
We congratulate them all who work hard to keep us safe…