Greenslade is putting a big dent in crime…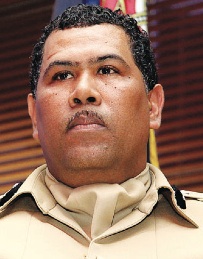 GREAT INAGUA, Bahamas – A joint operation between the RBPF Drug Enforcement Unit (DEU) Officers and the US Drug Enforcement Administration (DEA) officers resulted in the arrest of two (2) men on Thursday 30th August 2012. According to police reports, around 4:30pm, DEU and DEA officers conducted a Joint Operation on North West Cay, an Island North off Great Inagua, that led to the discovery of three hundred and forty-five (345) pounds of cocaine with a street value $2,520,000.00.
The two (2) men, a 44-year old Dominican and a 41-year old Turks Islander were arrested in connection with this large discovery and are assisting DEU Officers with their investigations. The two (2) men will be arraigned in court early next week.
THREE (3) MEN IN CUSTODY FOR ANDROS ARMED ROBBERY
Three (3) men, a 22 year old, a 20 year old and a 19 year old are in police custody in connection with an armed robbery that occurred at the Pineville Food Store located at Nicholl's Town, Andros on Sunday 26th August 2012.Police have filed charges against the three men, who are expected to appear in court early next week.