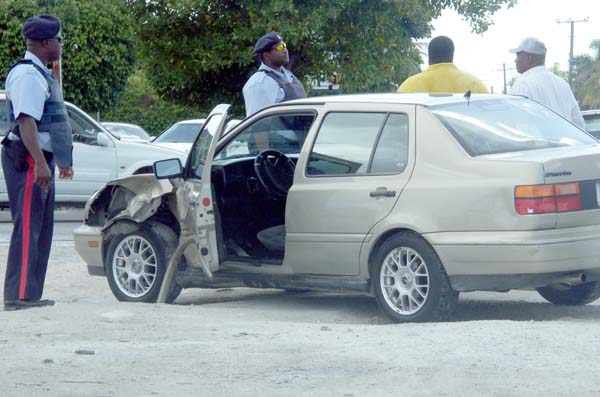 STABBING
Sometime around 3:48 pm on Thursday 15th April, 2010 police received information that a vehicle collided into a lamp pole at Cordeaux Ave.  Police responded and information received, a male and female were travelling west on Cordeaux Ave in a 1998 Blue Nissan Sentra L/P 196793 when the driver (male) of red two door Cavalier (known to the female), forced the Sentra off the road.  It is reported the driver lost control of the vehicle colliding into a lamp pole.  Further, it is reported that the female, age 26 years of Pastel Gardens exited the vehicle and was subsequently stabbed multiple times to the back. She was taken to hospital via EMS personnel where she is detained in stable condition. Police have taken a 38 year old male of Fox Dale into custody.  Investigation continues.
FIREARM & AMMUNITION ARREST
Sometime around 10:40 pm on Thursday 15th April, 2010 officers of the Selective Enforcement Team while on routine patrol on Milton Street off East Street, observed a  grey 1997  Nissan Wagon L/P 1854111 with three occupants acting suspiciously.  Officers conducted a search of the vehicle and recovered a handgun with ammunition.  Two females, ages 32 and 22 years and a 25 year old male of Highbury Park were taken into custody.  Police are investigating.
WANTED MAN TURNED IN BY HIS MOTHER
Police are pleased to report that a 41-year-old suspect, Clifford Miller, was surrendered to police yesterday by his mother. Police issued a request earlier this week for public assistance in locating Miller who is wanted for a number of Home Invasions and Burglaries in Eastern New Providence. Police credited media coverage and assistance from members of the public for helping to locate Miller.