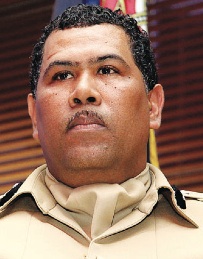 Abaco, Bahamas – On Thursday 31st January 2013, shortly after 2:00pm, police in Abaco acting on information received went to an area at Southside Road, Abaco where they re-capture wanted suspect Larry Dorelus.
Police also discovered a .40 caliber firearm with (1) live round of ammunition, a bullet proof vest and a number of stolen properties at that location.
He is expected to be charged and arraigned before the Magistrate Court for numerous offences both in Abaco and Grand Bahama.
SUSPECT ARRESTED DURING POLICE OPERATION IN SAN ANDROS
SAN ANDROS – A 37-year old man of Nicholls Town, Andros is in custody for Conspiracy to Possess Dangerous Drugs after he was arrested during an overnight Police Operation in San Andros.According to Police reports, sometime between 7:00pm on Thursday 31st January and12:30am on Friday 1st February 2013, a team of officers from the Andros Division led by Superintendent Bruce Arnette assisted by officers from Operation Bahamas, Turks and Caicos (OPBAT) conducted a major Police Operation in the San Andros Area codename 'Operation Thunderstorm.' The operation resulted in the suspect being arrested for Conspiracy to Possess Dangerous Drugs. Investigations are ongoing.
Police are appealing to members of the public who may have any information regarding any crime to contact POLICE at 919 or at 328-TIPS (New Providence) or300-8476 (Family Islands)
INFORMATION WILL BE KEPT STRICTLY CONFIDENTIAL