Five Local Organizations Combating HIV/AIDS Receive PEPFAR Funding from the U.S. Embassy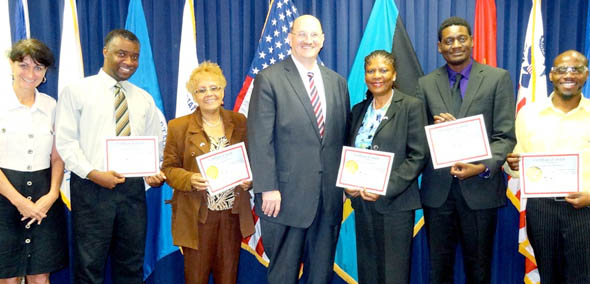 On Friday, February 1, U.S. Chargé d'Affaires John Dinkelman announced the five recipients of the 2012 President's Emergency Plan for AIDS Relief (PEPFAR) Small Grants Program during a ceremony following a one-hour roundtable discussion held at the U.S. Embassy. The program is part of the Caribbean Regional Partnership Framework against HIV/AIDS and focuses on prevention activities that encourage communities across The Bahamas to cooperate in the fight against the epidemic.  During the presentation, Chargé Dinkelman congratulated this year's grant recipients and reiterated the Embassy's continued commitment to partnering with the people of The Bahamas in the global fight to end HIV/AIDS.
Since 2009, the U.S. Embassy has provided local organizations with more than $104,000 in PEPFAR funding to support HIV/AIDS related community-based projects on New Providence, Grand Bahama and the Family Islands.  This year, the U.S. Embassy received a record number of dynamic proposals from various non-governmental organizations throughout The Bahamas that target the most at-risk populations and those engaging in high risk behavior. The five groups selected received grants totaling more than $18,000 to assist with initiatives to combat HIV/AIDS.
The new recipients of the U.S. Embassy's PEPFAR Small Grants include:
·        The Crisis Center: To conduct awareness workshops on dating, violence and HIV/AIDS geared towards teens in the Family Islands.
·        The Red Rose Ball Committee: To conduct awareness workshops led by health experts targeting high school students on Grand Bahama who will focus on abstinence, prevention, and peer education.
·        HOPHAS – Haitian Organization for the Prevention of HIV/AIDS & STDs: To conduct Creole radio and television Public Service Announcements (PSAs) in Abaco and Nassau related to HIV/AIDS prevention, exclusively geared toward the Haitian community in coordination with The Bahamas' National AIDS Program.
·        The Bahamas National Network for Positive Living (BNN+): To conduct a three-day training on grief and loss counseling and various intervention strategies for members of the organization's outreach team in Nassau.
·        The College of The Bahamas (COB): To support an arts and music competition for COB students to promote HIV/AIDS awareness, workshops to promote awareness and free status testing in coordination with the Bahamas AIDS Foundation.
U.S. Embassy Nassau will announce a new call for PEPFAR HIV/AIDS Small Grants proposals in the summer of 2013.  For information on PEPFAR activities in The Bahamas, please visit the U.S. Embassy's website at http://nassau.usembassy.gov