A BREAKING BP NEWS UPDATE >>>>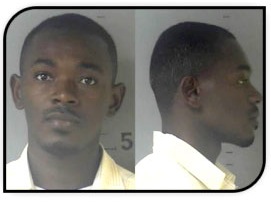 Kenyon Williams set to go before the court for fraud for a second time…
Nassau, Bahamas — Bahamas Press is reporting that police for a second time has captured a man on the run for fraud.
We can tell you officers yesterday captured 34- year-old, Kenyon Williams, who was wanted fraud. Police had issued a bulletin on May 20th for Williams along with a female.
He along with two females ages 32 and 25, appeared in court this morning at 11:00am to face several counts of Fraud related charges.
Now many reporting this news in the media would not remember how in on March 22nd 2010 police had arrested this same 'fraudster' for the same crime – FRAUD.
After swindling several Bahamians, he attempted to flee New Providence as he tried to board a flight to Exuma on the day of his arrest.
Some people only know a life of crime.
What in the hell is dis?