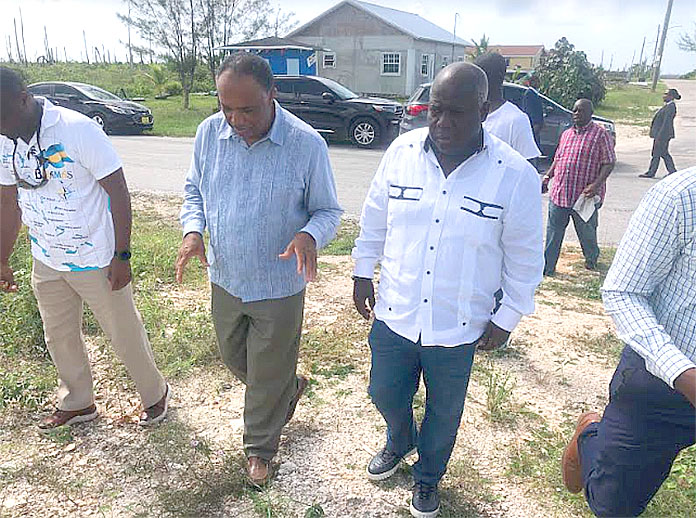 GRAND BAHAMA, The Bahamas – With the Beautiful Grand Bahama project initiated by the Davis Administration in full swing across the island as the government moves ahead with its mandate to rebuild, revitalize and restore the island hardest hit by Hurricane Dorian in 2019, Prime Minister and Minister of Finance, the Hon. Philip Davis travelled to Grand Bahama on Friday, August 18, 2023 to get a first-hand look at the island's progress.
The Prime Minister toured East Grand Bahama, along with Minister for Grand Bahama, the Hon. Ginger Moxey, Minister of State in the Office of the Prime Minister with oversight of Disaster Risk Management the Hon. Myles Laroda, Senators Kirkland Russell and James Turner, Chairman of the Disaster Reconstruction Authority (DRA) Alex Storr, and other officials. On the tour, he visited a number of the residents.
Following the assessment, Prime Minister Davis was pleased with the progress and pace of the reconstruction of homes in the storm-stricken areas restored through the project and the DRA, ultimately bringing relief to the residents in East Grand Bahama.
"I was pleasantly surprised at the progress that we have made since I last spoke with the team from the DRA. The Minister for Grand Bahama continues to tell me that progress is being made and, on the other hand, there was some chatter about it not being made. I'm happy that I came myself to see the progress that has been made out east," the prime minister said.
Prime Minister Davis noted that the pace of the work has been stepped up and will continue to move steadily in East Grand Bahama.
"I am happy to say that the residents out east are very grateful for what has been happening and it is them that I listen to, to have the feeling that I do today, now that progress is being made and progress has stepped up," he said.
The residents also expressed their desire to have the Beautiful Grand Bahama project continue in their area, and voiced their concern over their children having to be transported to Freeport during the early morning hours for schooling with the school in McLean's Town under repair and in High Rock and Freetown in need of repair.
Prime Minister Davis sympathized with the parents and students and said with work on the school in McLean's Town is well underway, it is expected to be completed by the end of September.
As for the schools in High Rock and Freetown, government plants to carry out repairs shortly.
"We intend to have that corrected as quickly as possible. I suspect that by the end of this year, that challenge for those children and parents would have been solved," he said.
He also pointed out that while he is pleased with the progress in East Grand Bahama, government will also be bringing relief to inner-city areas in Freeport and West Grand Bahama with a quicker response time.