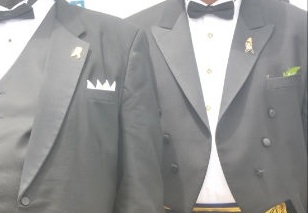 Nassau, Bahamas – We know that some years ago, Grand Master Carl Culmer and dem Culmer Boys sought to chastise every member of Prince Hall that didn't agree with every, single word that uttered out of their mouths. They sought to destroy many Masons like Everette Mackey, Fred Ferguson, Richard Marshall and Eugene "Geno" Nairn.
These good brothers were all expelled from Prince Hall Lodge for "treason" against the Grand Lodge, but Geno Nairn decided he was not taking his expulsion sitting down. He took the Prince Hall Grand Lodge to court for its members to show reason why he should have been expelled from the historic organization.
Nairn won his case against the Grand Lodge last year and the lodge was ordered by the courts of the Commonwealth of The Bahamas to permit him back into Prince Hall Lodge and deemed him eligible to attend meetings. Refusing to accept defeat, Grand Master, Carl Culmer, forbid the Junkanoo Dancer, who was at the time the Worshipful Master of the lodge Nairn belonged to, from letting Nairn into the lodge's meetings and ultimately defied the courts of The Bahamas.
Being even more petty and determined to keep Nairn, a very decorated Mason, out of the lodge, Culmer made the Grand Lodge file an appeal to have the ruling overturned.
The case is currently under review in the appellate court but judging from what BP has learned, it is highly unlikely that Carl Culmer and his Grand Lodge of Merry Men shall come out as the victor. News getting to BP states that Culmer and Co. has hired, once again, an attorney who, let's just say, should have been made to retire about 15 years ago when his memory and lower body functions started to fail. What in da hell is dis!!??
After listening to the dementia-filled utterances of the Grand Lodge's attorney, the three judges of the appellate court slammed the gavel and set the date of their decision for April 13.
In regards to good brothers, Everette Mackey and Richard Marshall, the Grand Lodge "pardoned" them of whatever "treason" they thought they committed, HOWEVER, Uriel "Rabbie" Johnson, Da Tief of Prince Hall Lodge, Da Gonorrhea spreading, woman using, vagrant, broke behind, homeless, good for nutting menace, decided that he would use his last few days as Worshipful Master of Royal Eagle Lodge to keep the two brothers out. So those two brothers remain out of their lodge – Royal Eagle Lodge – a lodge which was prestigious and filled with decent men until Da Tief got in there.
In the case of musician, Fred Ferguson, the Grand Lodge publicly stated that he will never be allowed back in the fold. His days of being a Prince Hall Mason are over as Culmer and the boys cannot deal with his being so outspoken.
BP just thought of something! These men who were expelled, don't they have all masonic secrets, signs and symbols? So expelling them proves what?
We Report! Yinna Decide!!