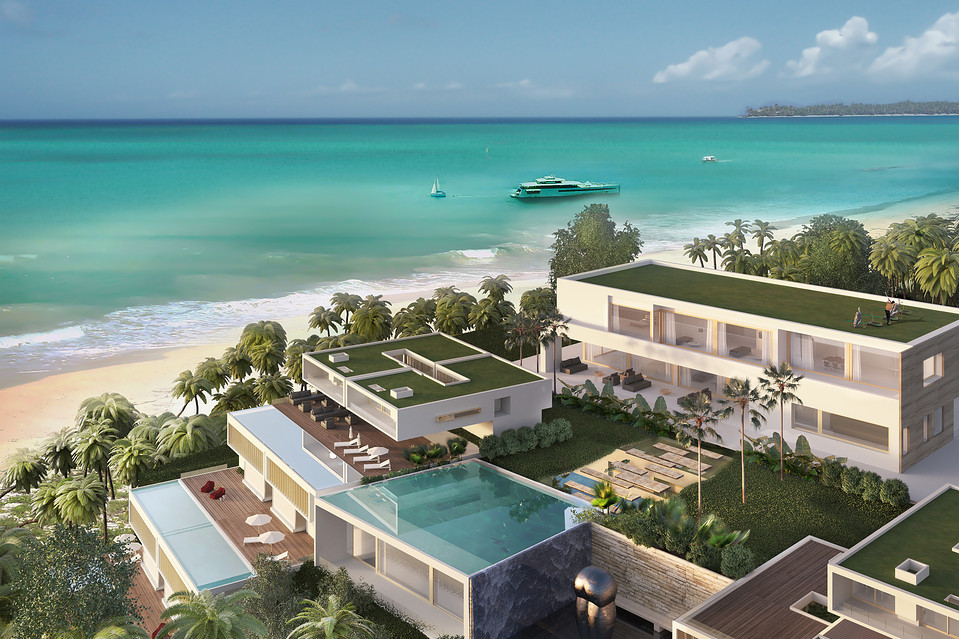 An undeveloped 164-acre property in the Bahamas' Berry Islands with plans for a "billionaire's compound" is going on the market for $41 million, according to the listing agent.
Located on the eastern end of Chub Cay, about 25 miles from Nassau, the vast majority of the property is raw land, with some infrastructure and roads leading to an airport on the island. The owner, Ervin Knowles, a former member of the Bahamian Parliament, said he began amassing the property in the late 1960s. Mr. Knowles, 81, who is also semiretired from the construction industry, said his plans were interrupted over the years by more pressing projects.
The property, called Frazer's Hogs Cay, can be used for mixed-use development, said listing agent Eddy Martinez, but they have drafted architectural plans for a compound, rendered above, that includes a roughly 22,000-square-foot, eight-bedroom, 12-bathroom contemporary home with a moat crossed by walkways. There are also plans for two smaller mansions and 16 Tiki-style bungalows on stilts that cantilever over the water. The compound would span about 20 acres and cost roughly $20 million to $25 million to build, said architect Enrique Rene Gonzalez of Gonzalez Architecture, based in Miami, Fla.
Mr. Martinez said the property was appraised at $41 million in 2007. Another listing in the Berry Islands chain, a 24-acre property on Sand Dollar Cay, is asking $7.2 million, which is in line with their price on an acreage basis, Mr. Martinez said.
Mr. Knowles said it has been a lifelong dream to build on the island, but now that he is older, he is willing to sell. "At some point, you got to make a decision, and I want to see it succeed," he said.