FirstCare Medical Plan, R.E.A.C.H. Bahamas and Ministry of Education award three students with prizes valued at more than $1k.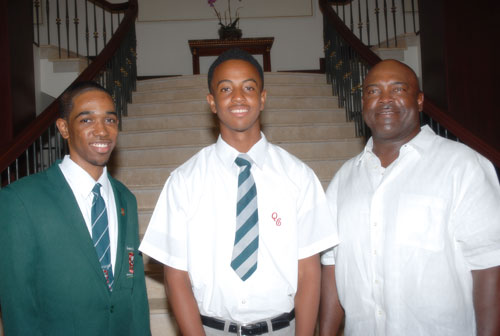 Nassau, Bahamas – FirstCare Medical Plan in association with R.E.A.C.H. Bahamas and The Ministry of Education awarded three students with prizes valued at more than $1k at the award ceremony for the second annual Autism Awareness Essay Contest.
More than 65 high school students from across The Islands of The Bahamas including islands as far south as Acklins and as far north as Grand Bahama submitted essays on the topic "Autism in The Bahamas: Inclusion, Advocacy and Dispelling Myths."
"It is encouraging to see so many Bahamian students take part in this essay contest," stated Marcellus Taylor, Deputy Director of Education responsible for Planning and Transformation. "We have already seen the great returns on the government's investments in special education. We have witnessed students on the autism spectrum who have been integrated into mainstream educational institutions and are now sitting national exams."
A panel of judges including Ms. Barbara Dorsett of The Ministry of Education, Mrs. Bridgette McPhee of R.E.A.C.H. Bahamas and Mrs. Athena Pratt of First Care Medical Plan judged each essay independently. After two rounds of judging, the essays with the highest scores were selected as the winners.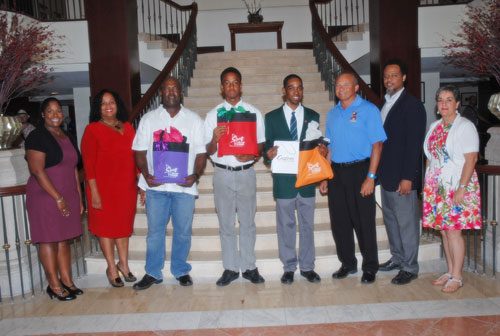 Raphieal Newbold Jr., a twelfth grade student at Queen's College penned the winning essay and recounted his experience watching a toddler interact lovingly with his older brother who is affected by autism as an example for all to follow. In his essay, Newbold noted, "We can eradicate the teasing, the frowns and the harsh interferences. Together we can see significant improvement and advancement." Newbold received a $300 cheque from FirstCare Medical Plan, a gift certificate from The Shoe Village and an electronic gift from Custom Computers.
Two runners-up were selected. Queen's College eleventh grader Ari Brathwaite, was announced the first runner-up and tenth grade Queen's College student Janea Munroe was announced the second runner up. The runners-up received cash prizes from FirstCare Medical Plan as well as gift certificates from The Shoe Village.
"FirstCare Medical Plan is committed to raising awareness for this developmental disorder that affects so many Bahamians both directly and indirectly, stated Corinna Neely, President of FirstCare Medical Plan. "We are incredibly encouraged by the great response the essay contest generates. Knowing that students are researching the disorder, learning more about how it affects others and linking that knowledge to personal interactions with those affected by autism can only help in fostering inclusion in the community."
Mario Carey, President of R.E.A.C.H. Bahamas expressed hope for further inclusion, highlighting the recently tabled Disabilities Act, which he states "gives our population of special needs citizens a lot of rights, a lot of power and equal opportunity."
Carey, flanked by his son Cole – who is a U.S. National Honour Society member with Asperger's syndrome, a high-functioning form of autism, outlined the many initiatives that R.E.A.C.H. is spearheading. He noted the recently concluded 14th annual summer camp hosted in partnership with the Ministry of Education that provided complimentary activities for more than 196 children over a four week period.
He also announced the launch of the Best Buddies program in The Bahamas, a global volunteer movement that seeks to integrate those with autism spectrum disorders into the workforce. Corporate volunteers welcome those with autism spectrum disorders into the workplace where they are assigned a buddy who works with them one-on-one with the ultimate goal of securing rewarding jobs that will allow adults with autism to become part of mainstream society.
The government has already committed to building a full centre for the disabled, complete with education, training and recreational facilities on a 20-acre site on Gladstone Road.
FirstCare Medical Plan has pledged to host the Autism Awareness Essay contest for many years to come and plans to become a Best Buddies corporate member.