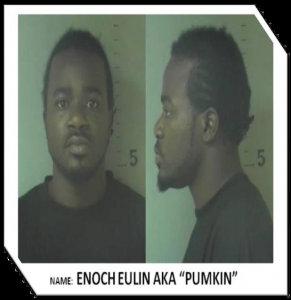 Police want your help in tracking down these rapists!!! Parents, hold ya children tight – MALE AND FEMALE!

Police tell us these are the two sex beasts on the run they want to lock away into its custody. The men are believed to be behind a number of rapes in the country.
Where ever you see 28-year-old DONNAVON STURRUP aka "TINMAN" of UNION VILLAGE and  32-year-old ENOCH EULIN aka "PUMPKIN" of EXCELLENCE ESTATES we are asking you to call the police.
Both men are described as having dark brown complexion, medium build and stands at about 5'11" tall.
Police want to question these men reference to  Armed Robbery, Burglary and Rape. Anyone with information that can lead to the arrest of these suspects is asked to contact police at  323-0853, 323-0854, 322-3816, the CENTRAL DETECTIVE UNIT @502-9910, 502-9991 or CRIMESTOPPERS @328-TIPS.