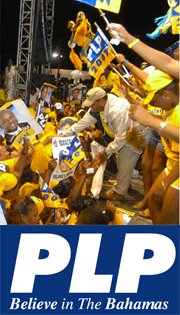 Press Statement By The Progressive Liberal Party
June 26th 2012

The Tribune this morning carried a story on Mrs. Michelle Reckley which attempted to portray her in a negative light. A Tribune editor asked whether Mrs. Reckley had resigned as Assistant Secretary General of the Progressive Liberal Party. I answered his question as follows.
Dear Paco, has the Tribune files of 2007 gone missing? I asked because there appear to be no interest in your newspaper in enlightening the Public what the FNM government did with large numbers persons employed in Urban Renewal prior to 2007?
Now to your question, I would invite you to inquire as the political position Ella Lewis held in the FNM since the 2007 general elections? Mrs. Reckley is still Assistant Secretary General of the PLP. I note your newspaper reference to her a cook and by the way she is an excellent cook.
I am aware that Mrs. Reckley had the concession at a private school on Grand Bahama and catered to many function on Grand Bahama over the years. When I read the article on Mrs.
Reckley this morning it brought to memory Sir Etienne Dupuch reference to Samuel Isaac PLP who defeated him as a "mere plumber".
When will we raise the bar in our Bahamas? For your information, I never went to University and neither did Sir Roland Symonette but was able to assist many with their educational pursuits.
See attached poster from Ella Lewis Face Book Page