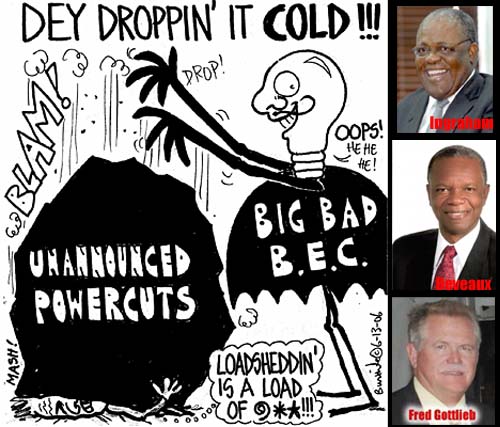 Nassau, Bahamas: As BEC consumers lined up at its head office in Big Pond, across the sound system played Ronnie Butler's "You gat bad ways and ya bad pay…". Citizens on the line said not a word. One by one persons cued meandering into the foyer like a funeral procession. Some screamed when the reach the dark teller booth as if they saw a dead body. But no, it was their high electricity bill.
Meanwhile inside the tellers booth at BEC a sole radio rung out the song of Terez Hepburn's "JACKPOT!" It was like a party going on inside as the tellers swayed from side to side like a Baptist choir as they cashed in on a new tax imposed by BEC on those hardworking consumers stressed out at the window.
As if they had not placed enough HELL on the working poor already in this country, the Ingraham government now seeks to inflict more hardship on consumers of BEC. Bahamas Press has learned that BEC has now quietly imposed a 'LATE PAYMENT FREE CHARGE' to its over 50,000 electricity consumers.
Bahamas Press announced on July 30th how a Mass Disconnection exercises by BEC was being carried out on thousands of homeowners here in the capital. When we revealed that BREAKING STORY some scoffed our revelations, concluding that we were yet again grasping for straws (https://www.bahamaspress.com/?p=1941).
But after the Cabinet had approved the mass disconnection exercise, Hubert Ingraham stood on the floor of the House months later in an about-face move, taunting his RELIEF PACKAGE' for BEC consumers. And ordered BEC to reverse the decision he made in the Cabinet room.
"I can't believe these people. Why would they want us, who are now struggling to pay our bills, be forced to pay a late fee, when BEC never issue bills early in the first place?" one angry consumer said as he left the pay centre.
"I mean every time ya try get ahead, someone trying to rob and plunder the last dollar ya make! I CRY SHAME ON INGRAHAM DEM DOING THIS TO POOR PEOPLE!"
Bahamas Press has learned that the LATE FEE CHARGE has been added for a while now according to our deep-throat at the corporation. However many persons are still not aware of the charge on their billings. A section on the bill titled "Other Adjustment" provides a space for that charge to be imposed, however on computers at the corporation the area titled, 'delinquent fees' log the charge to BEC consumers for late payments.
It also appears that the fee is not a fixed fee to consumers as one month differs from another. Another consumer said, "You mean to tell me they charging me for the late bill they send me? Boy dese some crooks ech?"
Once again the corporation lay silent over the issue, but yet once again your Bahamas Press has the story. NOW WATCH HOW THEM WUTLESS MEDIA PEOPLE TRY SPIN THIS STORY!