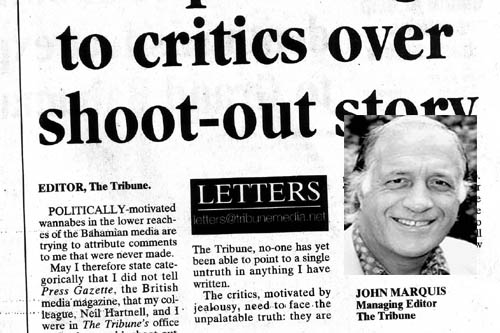 <<< A recent photo of John Marquis, Managing Editor of the daily Toilet Paper.
Nassau, Bahamas: Residents shot back at Toilet Paper's Managing Editor John Marquis following his scathing attack on the Father of the Nation, Sir Lynden Pindling. On Monday a mass demonstration led by Paul Moss gathered outside the Tribune's head office on Shirley Street. Reports were that Marquis was so afraid to venture outside, that he called his contacts in the Gestapo police force to send for backup.
Today since his reports on Pindling in the wutless morning daily, Marquis is now being followed with protection by members of the SIB. Bahamas Press'deep throat at the 'Toilet Paper' said, "Marquis was so afraid to venture outside the paper on Monday night; he stayed in the newsroom late into the night on Monday, and like a snake slid out of the backdoor of the of the press-room with his police protection following."
Marquis fear continued as he denied Lincoln Bain , a host on the popular Controversy TV show, a camera shot of his face on television. Since the demonstration Marquis has also refused walking for lunch to his favourite VIP Chinese restaurant on Bay Street. That source said, "Even the Chinese (Lady Pindling friends of the past) are equally disgusted over the Pindling attacks."
As one talk-show host noted, "Marquis has no one to blame in all this but himself. He started the fire as he called the name of Sir Lynden Pindling, and now that so many residents (WHITE, BLACK, RICH AND POOR) are now gathered around that fire, NO ONE CAN STOP THEM FROM CARRYING OUT THEIR DANCE AND CHANT IN DEFENSE OF THE FATHER OF THE NATION."
Below are clipping of the Controversy TV show interview exclusive with John Marquis and the NOW ANGRY BAHAMIANS.