Bimini Bay takes off as mega Casino Opens!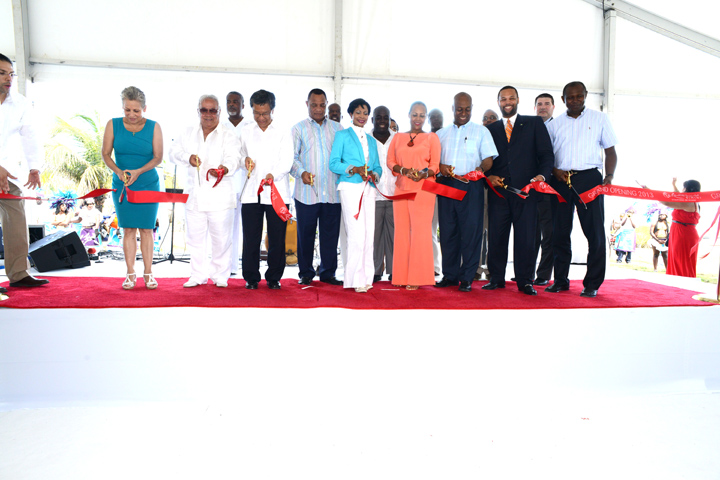 BIMINI, The Bahamas — Prime Minister the Rt. Hon. Perry G. Christie said to increase overall occupancy and to transform Resorts World Bimini Bay into a year round destination, a strategic transformation plan is being implemented that addresses product placement.
The Prime Minister brought remarks at the opening of the Resorts World Bimini Bay Casino in Bimini, Friday, June 28, 2013,
He noted that the strategy also includes procurement of affordable transportation with express cruise ship ferry and airlift offering special rates, island infrastructural improvement, resort activity enhancement, the implementation of an effective marketing strategy, human resource development and training to deliver a world class service.
"There are plans by the developer to market the resort as a haven for boating, yachting and water sports and feature tours of Alice and Bailey's Towns, attractions, dining and entertainment experiences."
Prime Minister Christie said, "The resort will also offer fishing, diving excursions, beach volleyball, tennis, snorkelling, scuba, a wild dolphin adventure, kayaking, mangrove boat tours, paddle boarding, sunset celebration cruises."
He added that a signature spa, interactive children's centre, new cigar lounge, wine and cheese bar are to be included.
Deputy Prime Minister the Hon Philip Davis; Mrs. Bernadette Christie; Mrs. Anne-Marie Davis; other Cabinet Ministers and Members of Parliament; Deputy Leader of the Opposition the Hon. Loretta Butler-Turner and senior Government Officials attended the opening.
Chairman of Resorts World and the Genting Group (a leading international resort, gaming, cruise line, agriculture and energy conglomerate based in Malaysia), K. T. Lim; President of RAV Bahamas Ltd, Gerado Capo and their teams also attended the opening.
Prime Minister Christie explained that the project is being realised through the combined investments of Mr. Capo, a leading Florida builder and real estate developer, through his company RAV Bahamas Ltd and the Genting/Resorts World Group.
Prime Minister Christie said, "During my Government's first term in office, through amicable negotiations, the original Heads of Agreement between the Government of The Bahamas and RAV Bahamas Ltd, were amended for environmental reasons and to reduce the density of the project."
He said now Bimini Bay is a 750 acre oceanfront resort community consisting of luxury homes and condos, comprising 480 residences the majority of which are in the hotel pool, the largest yacht marina complex in The Bahamas able to accommodate yachts up to 200 feet, restaurants, magnificent pools, an open air shopping village and a tennis centre.
The Prime Minister said about a year ago, just after his second term in office began, it was the Government's great pleasure to welcome and approve a joint venture between RAV Bahamas and Genting (USA) Ltd., a subsidiary of Resorts World to undertake a joint venture partnership known as BB Entertainment Ltd. in connection with the development and operation of a modern, cutting edge casino and related facilities, which is a reality in "bold and living colour".