Christie Leaves a lasting legacy and footprint in Bimini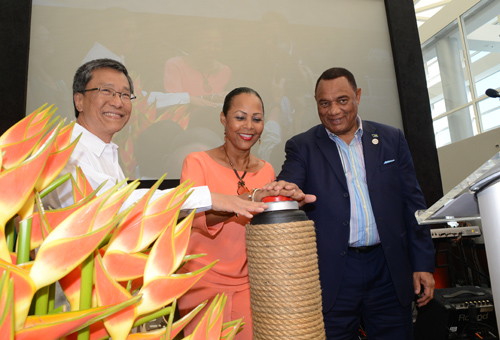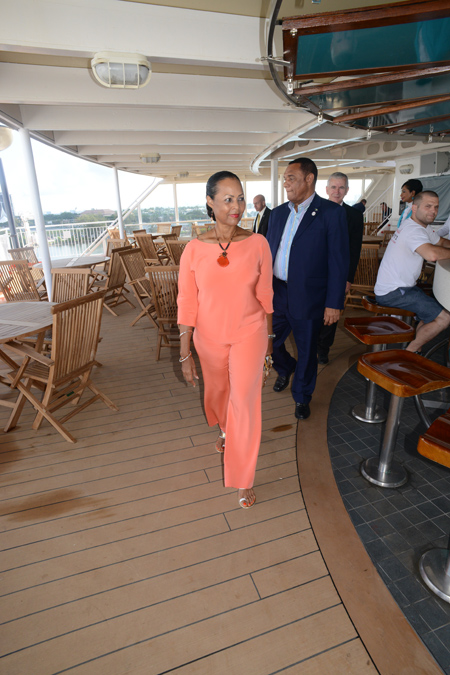 MIAMI, Florida — With the words "I name this ship Bimini Superfast and may she bring fair winds and good fortune to all who sail on her," Bernadette Christie, wife of Prime Minister the Rt. Hon. Perry G. Christie, christened the ferry at the Miami Port, Friday, June 28, 2013.
Prime Minister Christie explained that the Bimini Superfast has a capacity for up to 3000 passengers and will operate daily between Miami and Bimini with a ferry time of two hours beginning next week.
"The capital costs to Resorts World associated with the acquisition and introduction of the cruise ferry services is some $95 million."
He said following environment approval, Resorts World will also build, at its expense, a deep water jetty and terminal for a cost of some $10 million at which the Superfast and two mega yachts will dock.
The Prime Minister said, "Until the dock is completed later this year, the developer has acquired two large catamarans to be used as tenders."
He added, "The cruise ferry will provide a comfortable, inexpensive (under $50), and fast mode of transportation to Bimini for both tourists and residents of Bimini, thus ensuring a steady influx of guests to support revenue streams, and affordable transportation for the people of Bimini."
Deputy Prime Minister Philip Davis; Minister of Tourism the Hon. Obie Wilchcombe; Minister of Transport and Aviation the Hon. Glenys Hanna-Martin; Minister of State for Transport and Aviation the Hon. Hope Strachan and Minister of State for Investments in the Office of the Prime Minister Khaalis Rolle and wife of the Deputy Prime Minister, Mrs. Anne-Marie Davis attended the christening.
Chairman of Resorts World and the Genting Group, K. T. Lim and President of RAV Bahamas, Gerado Capo and their teams as well as media persons and other guests also attended the christening and toured the Superfast for the first time.