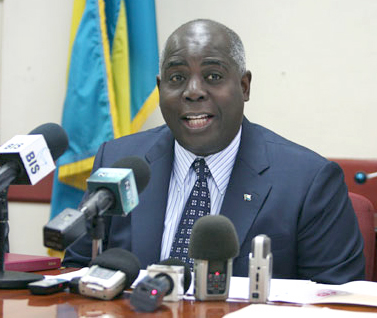 NASSAU, The Bahamas — Deputy Prime Minister and Minister of Works and Urban Development said the Board and Management of the Bahamas Electricity Corporation have been reviewing every single aspect of the Corporation to see where efficiencies could be achieved and where costs could be lowered.
Presenting his Contribution to the 2013/2014 Budget Debate in the House of Assembly, Monday, June 17, 2013, the Deputy Prime Minister said the Board and Management have to do this because the cost of electricity has been too high for too long.
"The government has made a decision to remove the Excise Tax on fuel imports to help in a very direct way to provide a means for BEC to lower its charges to consumers.
"The Government is actively reviewing more than 60 proposals for the provision of renewable energy with the potential to lower the cost of energy to BEC, permitting again, a lowering of costs."
The Deputy Prime Minister said the Parliamentary Secretary in the Ministry of Works and Urban Development is chairing a task force reviewing the submissions.
"We are hopeful that they will find among the proposals projects which can come on stream in relatively short order and help reduce, again, the cost of electricity to the consumer."
He also noted that total revenue was reported as being down as a result of a reduction in units billed of 3 per cent from last year. The decrease in revenue accounts for a 3.7 million decrease in budgeted gross profit.
Deputy Prime Minister said total operating expenses are reported as being 4 per cent over the prior year but 2.3 per cent under budget, despite a $7 million increase in bad debt expense to date. In this regard, the Corporation is attempting to reduce its expenses.
He said during the 2012/2013-budget year, BEC was able to undertake and complete several major projects at various locations including:
Blue Hill Power Station – where a 24 MW combustion turbine is being installed and commercial power should be available for transmission from this equipment by September 2013.
Clifton Pier Power Station – where the installation of a waste heat boiler is essentially complete, which will enhance operations at Clifton Pier.
BEC Headquarters – where repair and expansion of the parking lot is nearing completion.
Marsh Harbour (Abaco) Substation – where civil works are completed; and installation of the switchgear and transformers is in progress with the mid-summer as the expected date of completion.
Hatchet Bay (Eleuthera) Fuel Storage Facility – where a 500,000-gallon fuel storage tank and fuel delivery pipeline are essentially complete, and the fuel tank is already in use.