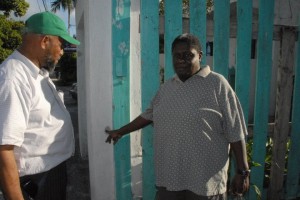 Rose Mary Cole sat down last night at her Bahama Avenue home and flipped through her Cable TV Chanel and saw Rodney Moncur, the Justice of the Peace, being interviewed by Minister Temeko Brice on The Bahamas Christian Network, Chanel 55.
Minister Brice was interviewing Mr Moncur on capital punishment and the many murders which are taking place in The Bahamas.
As Moncur arrived on Augusta Street to offer the families of Yovelle Audley Thompson sympathies in the aftermath of his murder by gunmen who put two shots in him; one in his head and the other in his chest from an AK 47 Assault Rifle, the scene was that of great sorrow.
The Justice of the Peace was accompanied by D Kyle Thompson. Moncur requested to speak with Yovelle Audley Thompson's mom.
Ms. Rose Mary Cole came outside to speak with Moncur and immediately told him that he mind was on him all day. Ms Cole told Moncur how the night before she was turning through the various channels of her Cable TV when she saw Moncur being interviewed on capital punishment and she decided to watch Channel 55 on The Bahamas Christian Network.
Moncur, she said "as I watched the programme and I listen to you, something that you said made me get on my knees and to pray for my son Yovelle". She said " I did not know that that would be the last time that I would have seen him alive."
Moncur and D Kyle Thompson (no relationship to Yovelle) extended sympathies to Ms Cole and her families on the murder of her son. When Ms Cole was advised that Families of murder victims were marching in the morning she asked Moncur to pick her up to attend the march and motorcade which is set for Saturday morning at 9 a.m. The march and motorcade will start and end at the Pinewood Gardens Park.